Orissa to spend spend 14 crores to develop Buddhist sites to attract tourists
by Akshya Rout, Orrisa Diary, , August 14, 2011
Jajpur, India -- To attract more tourists to Langudi, Kaima, Neulipur, Tarapur and other hills in Jajpur district, the state government will spend 14 crores within four years, said Ashok Tripathy the secretary of tourism and culture department of Orissa on Saturday. Tripathy along with senior officials visited these Buddhist sites on Saturday.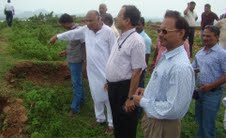 For an archeological hotspot, Langudi wears the tag of obscurity well. Located in Dharmasala tahasil of Jajpur district , it is a sleepy hamlet with a sparse population. But things could change, thanks to the discovery of a Buddhist Stupa along with many images of different postures of Lord Buddha. Langudi hit the headlines eight years ago, when several senior historian and archeologists considered it as the 'Puspagiri' as described the famous Chinese traveler Huein Tsang . However, very few tourists have since ventured into this remote hamlet for a view of the aretefacts. But the government will spend money to develop the Buddhist site for which more tourists will come soon, said Tripathy.
Targeting Buddhist Tourism, in Jajpur the state government is going to launch Buddhist Circuit involving primary pilgrimage places associated with the life and teachings of Lord Buddha.Lalitagiri, Ratnagiri, Udayagiri, Langudi, Kaima and Neulipur are the primary pilgrimage places along with numerous other sites where Buddha and the saints travelled will be part of the itinerary, Tripathy said .
Global tourism trend has shifted to Asian Tourist market with 40 per cent of total tourists in the international tourism market arriving from Asian Countries. "Trend of tourism is changing with the interval of time and there is a need of new products to be identified," said Tripathy.
The state government will build a 150 feet high Buddha statute in Neulapur hill and a 85 Buddha statute in Deuli hill to attract more tourists. A 50 feet high Shiva statute will be built in Gokarneswat temple. A 500 meter long ropeway will be connected from Deuli hill to Kaima hill, said Tripathy.
Kalpataru Das the MLA of Dharmasala suggested before the officials to build the statues and we have agreed to abide the decision of the MLA, said Tripathy.
TOP