Tracing India's roots to Bamiyan
by Vijetha S. N., The Hindu, Sept 16, 2011
New Delhi, India -- India saw the birth of many religions that soon spread to the rest of the world, and Buddhism in particular was adopted by many countries including Afghanistan, Uzbekistan and Russia where Buddhist shrines have managed, in part, to withstand the ravages of war and time.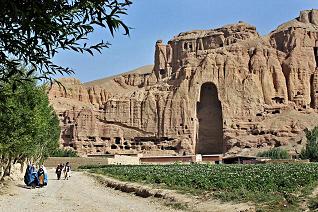 Eminent art historian, film-maker and photographer Benoy K. Behl, who has been documenting Buddhist sites and art in countries like Siberia, China, Japan, Bhutan and Sri Lanka for many years, recently visited Afghanistan, Uzbekistan and Kalmykia province of European Russia which claims to be the only European region with a 400-year-old Buddhist tradition.
The Bamiyan site, dating back to the 6th Century in war-torn Afghanistan, was once home to the larger-than-life statues of the Buddha. Today there are only niches where these brhads once stood. The tradition of these giant statues originated in 5th Century India and spread across Hinduism, Jainism and Buddhist faith. The grandeur of these statues was meant to reflect the grandeur of the human spirit.
Mr. Behl was so enraptured by the sight that he captured the absent deity in a photograph as if to say that though the statue may not be present in form, having lost the fight against man's cruelty and intolerance, it is definitely present in spirit.
Although the Buddha statues no longer exist in Bamiyan, Mr. Behl says there are remnants of the site which is conclusive proof that although Bamiyan was at a crossroads of culture, seeing major Persian, Greek and Roman influences, the Indic philosophy prevailed and the people decided to honour the Buddhist tradition by building numerous caves and monasteries, some of which are still in the process of being discovered like the site of Mes Aynak where fully-intact Buddha figures bearing a serene inward look have been discovered recently.
The famous Silk Route, once the bridge that connected the ancient world, also stands witness to the journey of Indian philosophy and ideas..
Uzbekistan's national museum in Tashkent houses a fine head of Lord Shiva, a few Buddha figures and remnants of mural paintings that serve as indicators of the country's ancient culture and its links with India.
Kalmykia province of European Russia also falls on the Silk Route, and a newly built Buddhist temple, "Golden Abode of Buddha Shakyamuni", rests in Elista, the capital of Kalmykia. The temple is surrounded by seated statues of the 17 Acharayas of Nalanda University, credited with developing the philosophical traditions of Buddhism.Mr. Behl will soon exhibit his photographs tracing India's contribution to the culture of the world.
TOP