Amdavadi mentors Ladakh's child monks
by Dhwani Pathak Dave, Ahmadebad Mirror, December 24, 2011
Abhigya Shukla is on a mission to educate kids studying in monasteries of Likir. Through Friends of Likir page on FB, she invites like-minded people to join her
Leh, Ladakh (India) -- It was a vacation to Ladakh that made 33-year-old educator Abhigya Shukla take up what now she regards as one of the most gratifying experiences of her life. Through a noble initiative - Friends of Likir -Abhigya plans to educate children in isolated villages of Ladakh.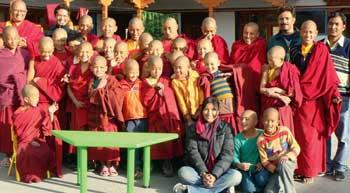 << Abhigya Shukla (seated) supports 10 institutions in Ladakh including a nunnery and government schools in Nubra Valley
These children study in a monastery school located in Likir, a small town in Ladakh. Today, she supports 10 institutions including a nunnery and government schools in the Nubra Valley, Zanskar and some villages on Indo-Pakistan and Indo-China borders.
As an educator with Mahatma Gandhi International School, Abhigya had taught students of class 1, 2 and 3. Here, she had custom designed modules/projects that integrated essential learning skills like reading, speaking, art, theatre, expression and critical thinking. With the experience she gained out of teaching at the school and with the passion for educating tiny tots who brave high altitudes and freezing terrain to reach school, she embarked on the Likir mission.
Great opportunity
Abhigya says, "I have been to Ladakh twice in the past. In 2009, I had the opportunity of visiting 15 monasteries and interacting with monks. I gained a good insight into the life the child monks lead, their routines and schedules. I also took a couple of day classes during my stay."
Two years later a friend presented her with an opportunity to make a difference to the lives of these young monks and she readily took it up. Likir monastery conducts classes for grade 1 to 6. "Having worked as an educator and mentor since 2000, when I saw these brilliant boys enrolled in schools that have a principled yet conservative system of education, I secretly promised myself to come back and teach them," she says. Now, back from her three-month stay in Ladakh, Abhigya is raising funds to provide these children books, stationery, art supplies and health and nutrition supplements.
"Earlier it was a tradition among Buddhist families to send one of their sons to the monastery. But now, it is usually families that cannot afford to educate or feed their children that send them to the monastery," she adds.
Abhigya visited Ladakh in August to work with the Likir Monastery School for two weeks. The authorities expressed their need for more spoken and conversational English. And so, she designed short modules to enhance their listening, speaking, reading and writing skills. They were also shown children's movies and had conversations that led to reflection and investigation.
Help poured in
Thanks to Abhigya's like-minded friends, help poured in from all quarters for her initiative. She just had to post her requirement on the internet and there was a whole lot of generous people ready to do their bit and support her cause. The Facebook page 'Friends of Likir' has 578 members currently.
"During the weekend, I would just post on FB: 'The boys love to play football. Can someone send us some?' Within minutes, I would get a reply saying, 'Sending by tomorrow's courier'. A friend from Mumbai who runs a cafe sent three kgs of brownies and cheesecakes for the kids," says Abhigya.
She says her initiative also helps people like her to connect with the other part of the country they may know little about.
TOP