Pad Yatra: Buddhists Draw Attention Towards Environment
The Buddhist Channel, Dec 30, 2011
DELHI, India -- A strong contingent of 600 Monks and Nuns led by His Holiness the Gyalwang Drukpa (spiritual head of the Drukpa Lineage) are on a Pad Yatra (walking pilgrimage) from Mumbai to Sanchi via Ajanta Ellora spreading the message of peace, harmony, goodwill and respect for the environment.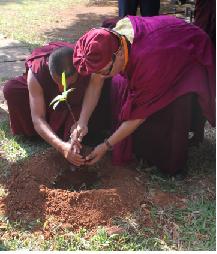 The Pad Yatra was formally flagged off from Mumbai, India's corporate capital on 10th December. This Pad Yatra will pass through Ajanta Ellora (a UNESCO world heritage site) between 24th to 29th December, and ends in Bhopal on 6th January 2012. The walk will finally conclude formally in Delhi on 8th January with a public discourse by His Holiness the Gyalwang Drukpa wherein he will again reinforce his message of respect for nature and the environment.
His Holiness is the recipient of United Nation's Millennium Development Goal (MDG) award for his efforts towards the environment. Earlier, in 2010, his Holiness had led a drive to safeguard the Himalayas by ensuring plantation of a million trees in the Ladakh region, a feat that was recognised by the Guinness World Records.
The total distance covered by these environmental crusaders is over 1500 kilometres out of which around 750 kilometres would be on foot. Thousands of people, including 450 monks and nuns, followers and supporters are taking part in the Pad Yatra, along with various national and international celebrities and Drukpa followers.
During the Pad Yatra, the marchers stay in either local schools, dharmashalas, or in the open, embraced by nature. They carry their own food items, cook at the halts, and also carry all other necessary items for daily usage and for sleeping. They continue to pick up eco-waste along the way, and so far, over 1 ton of eco-waste has been collected which is at various legs handed over to the local authorities for proper disposal.
This is the 5th Pad Yatra that His Holiness is undertaking. Since 2006, His Holiness has taken students on foot journeys through Bihar, Uttar Pradesh, Ladakh, Manali, Sikkim and Darjeeling, each time the Yatris picked up more than one ton of non-biodegradable waste and educated populace in the remote areas about the importance of keeping environment clean and green for future generations.
The Pad Yatra which aims to bridge spirituality and materialism through promoting a life in harmony with nature, will cover other notable destinations like Kanheri Caves, Elephanta Caves, Kondana Caves, Karjat, Rajmarchi, Karla Bhaja, and Aurangabad.
This uncommon Pad Yatra is a brainchild of His Holiness the Gyalwang Drukpa. Visiting power places of great blessings, promoting awareness on environmental issues as well as encouraging spiritual development within oneself through familiarizing with the breathe of nature are the things that His Holiness always does, on foot.
Talking about this quest and spiritual adventure His Holiness the Gyalwang Drukpa said, "This Pad Yatra symbolises the journey from self to selflessness. On the personal side, this is an effort to come closer to nature and enjoy its bounty by way of an encounter of the close kind. On another front, this is an effort to raise awareness about the environment, and ensuring that there is widespread education on the various facets that focus on environment and sustainability subjects."
About His Holiness the Gyalwang Drukpa
The India-born Buddhist spiritual guru, His Holiness the Gyalwang Drukpa is an active proponent of Peace and Harmony through putting compassion and love into action. He is most lauded for promoting gender equality and awareness in environmental issues. He is the United Nations Millennium Development Goals (MDG) Award recipient and Green Hero of India. His Kung Fu nuns were featured on the Life Series broadcasted by BBC World News in September 2011. He also led Ladakh in breaking the Guinness World Records for "Most Trees Planted" category on 10th October 2010. He is also the founder of the school in Ladakh which featured in the popular movie "The 3 Idiots" and is now more popularly known as Rancho's school.
--------
The photographs of the Pad Yatra are uploaded here: http://www.mediafire.com/?3i45ugopgs3ad
To Follow His Holiness in action during the Pad Yatra on facebook and for more photographs of the Pad Yatra, go to: http://www.facebook.com/#!/Drukpa.Order
TOP