Dalai Lama conclude Bodh Gaya Kalachakra teaching to over 200,000
TibetanReview.net, Jan12, 2012
Bihar, India -- More than 200,000 people from 63 countries attended the Dalai Lama's 32nd Kalachakra teachings which concluded at Buddhism's holiest place of Bodh Gaya in the Indian state of Bihar on Jan 10.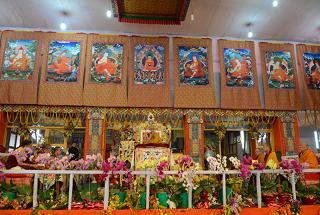 Chief Ministers Mr Nitish Kumar of Bihar and Mr Nabam Tuki of Arunachal Pradesh were among those who attended the teachings which began on Jan 1. The media also focused on Hollywood star Richard Gere who attended the entire teaching.
Nitish Kumar said the Dalai Lama's presence and teachings had greatly benefited the local people in many ways. Nabam Tuki thanked Nitish Kumar's help in organizing the event and hoped more hotels could be built at Bodh Gaya, the holiest place for the Buddhist people, as his state's many Buddhists would be visiting it constantly.
Shortage of accommodation was a major issue during the mammoth religious gathering with the local hotels and guesthouses raising tariffs ten times or more and the local residents renting out their homes while the shortage still remained acute.
Mr Pema Khandu, a minister of Arunachal Pradesh and one of the Chief Patrons of the teachings hoped to organize more teachings in future. His late father, former chief minister Dorje Khandu of Aruanchal Pradesh, was among the original chief patrons of the 32nd Kalachakra teachings.
The Dalai Lama's latest book, 'Beyond Religion', was released on the sideline of the teachings.
Among those who attended the teaching were reported to include over 10,000 Tibetan pilgrims from Tibet and some 1,300 Chinese from mainland China. There were also reported to be 35,000 Buddhists from the Himalayan regions, nearly 1,000 from Taiwan and more than 1,000 Indians.
The Kalachakra teaching is one of the most sacred for practitioners of Tibetan Buddhism, with the Dalai Lama having given his first teaching in a nominally free but already Chinese dominated Tibet in May 1954.
TOP