Finnish team floored by architectural splendour of Amaravathi
The Hindu, Feb 13, 2012
They enjoy a walk around the Buddhist Maha Chaitya
Amaravathi, India -- The sun shore brightly on a warm Sunday afternoon and the five-member Group Study Exchange (GSE) team from Finland set out to Amaravathi, a prominent Buddhist pilgrim centre.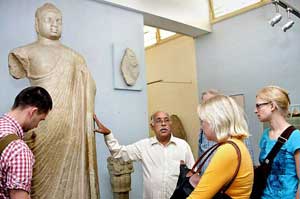 << The Group Study Exchange team Members See Buddhist Art at the ASI Museum in Amaravathi on Sunday.Photo: T.Vijaya Kumar
Led by Heikki N. Salumäki, team leader of the GSE team, comprising Minna Kristiina Nieminen, Hanna Elina Hytönen, Ville T Saarelainen and Reetaleena Rissanen, the team set out to explore architectural splendour engraved on the many inscriptions on limestone capturing the many milestones in Buddhism.
A guided tour of the Archaeological Survey of India museum was an eye-opener. For the members of the team, it was a journey back to the 3rd century BC as the in-charge curator explained in detail the historical significance of every artefact.
Be it the limestone inscriptions penned in Brahmi script giving an insight into socio, political and religious features of the erstwhile kingdoms, or the replica of Maha Chaitya or the statue of Gautam Buddha engraved on limestone, left a lasting impression on the team from Finland.
A walk around the Buddhist Maha Chaitya, the most prominent landmark, would be etched in their memory forever, they said.
But more was to come. The imposing 140-foot Dhyana Buddha statue overlooking the river Krishna, though still incomplete, had the visitors floored. They took a walk around marvelling at the architectural splendour and the intricate embellishments on the structure.
On their way back to Guntur, the GSE team stopped at the boys' hostel run by Annadanam Samajam and supported by Rotary Club of Guntur. The inspiring stories of orphans being cared, nurtured and provided all the support to make it in life filled them with compassion.
"This is wonderful since the boys are given a second chance to come up in their lives," exclaimed one of the team members. Rotarians, Nagarjuna, Sagar accompanied the team.
TOP