Buddhist monk, Dalit leaders get bail
T. V. Sivanandan, The Hindu, Feb 19, 2012
They were charged with removing idol found at ASI site
Gulbarga, India -- Fourth Additional District and Sessions judge Basavaraj Belawagi has granted conditional bail to Buddhist monk Banteji Bhodidhamma and four Dalit leaders who were charged with removing an idol of a Hindu goddess from an excavation site in Chithapur taluk of Gulbarga district under the control of the Archaeological Survey of India (ASI).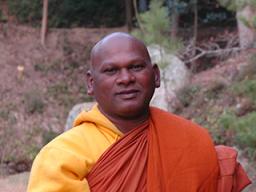 << Bhante Bodhidharma was granted conditional bail with four Dalit leaders
Allowing the bail application of the monk and Dalit leaders Nagendra Jawali, Santosh Melmani, Kishore Gaekwad and Hanumanth Itagi, the judge ordered their release on a personal bond of Rs. 25,000 each.
The judge rejected the contention of the prosecution that the accused would jump bail and influence witnesses in the case.
The monk, who was initially lodged in the high security Gulbarga Central Prison, was later shifted to a private hospital by the jail authorities after he complained of uneasiness. The four Dalit leaders were lodged in the Gulbarga Central Prison.
The arrest of the monk on February 6 under non-bailable sections of the IPC sparked off angry protests from fellow monks in different parts of the country and various Dalit organisations in Gulbarga and other districts in the State.
The claim of the monk and the Dalit leaders was that the idol had been placed in a Buddhist site located at Sannati with the ulterior motive of proving that the site also contained remnants of Hindu gods and goddesses.
Incidentally, the ASI and independent historians identified the site, which dates back to between the 1st and 3rd centuries A.D., as one of the oldest Buddhist sites in Karnataka.
The Sannati site also has a special place due to the fact that four major rock edicts of the Mauryan period are found there. It is said to be similar to other known eminent Buddhist sites at Ter in Maharashtra and Nagarjuna Konda in Andhra Pradesh. The stupas found in Sannati are considered much larger and artistically richer than the famed Stupa at Sanchi.
Dalit organisations and the monk gave a representation to Regional Commissioner K. Ratnaprabha to remove the idol and set up an enquiry on how it was placed in an excavation site under the control of the ASI.
TOP