Karmapa Lama attends workshop on global peace in Dharamsala
ANI , 3 May 2012
Dharamsala, India -- The 17th Karmapa, Ogyen Trinley Dorje attended a workshop on global peace and Buddhism here earlier this week.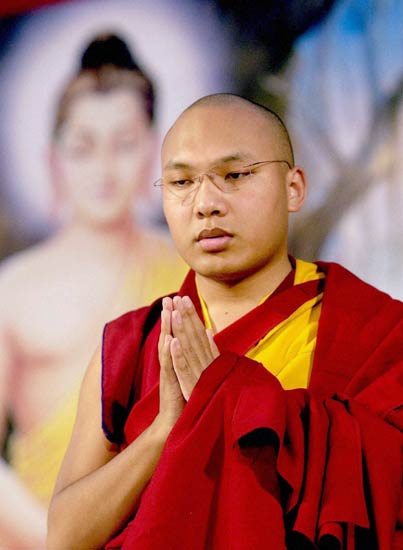 People from different parts of the transit Himalayan belt participated in the event that was organized by a non-government organization.
Addressing the workshop, Karmapa Lama praised the friendly relations between India and Tibet and expressed gratitude to the government for their support.
"India and Tibet have historical relations and it's our responsibility to tell about it to our younger generation and we hope that the friendly relation continues for millions of years," said Karmapa, Ogyen Trinley Dorje.
The 17th Karmapa, Ogyen Trinley Dorje, is the third most important Tibetan spiritual leader.
The Karmapa Lama is regarded as the third most important leader in the Tibetan hierarchy after the Dalai Lama and the Panchen Lama.
China has ruled Tibet with an iron fist since Communist troops marched into Tibet in 1950. It says its rule has bought much needed development to a poor and backward region.
An estimated 80,000 Tibetans along with their spiritual leader, the Dalai Lama, had arrived in India in 1959 after an unsuccessful uprising against the Chinese rule.
Tibetans fear that China will use the thorny issue of the Dalai Lama's religious succession to split the movement, with one new Lama named by exiles and one by China after his death.
Meanwhile, leader of India's radical Hindu-right-wing organisation, the Rashtriya Swayamsewak Sangh (RSS), Indresh also attended the event and discussed about global peace.
Tibetan Interior Minister In-Exile Gyari Dolma said that development can take place in the area only if peace prevailed.
"There is a meeting organized by the 'Himalayan Family'. 'Himalayan family' represents the entire Himalayan belt, the transit Himalayan belt and the topic today was on the Buddhist religion and global peace and also the second topic for discussion today at this meeting is the dangers that the Himalayas face today," said Gyari Dolma.
The 'Himalayan Family' is a non-government organization, which helps the people living in the Himalayan belt to overcome the challenges of poverty, unemployment and communalism. (ANI)
TOP