Monks fear Tawang projects will defile sacred Buddhist spots
by Naresh Mitra, TNN, June 13, 2012
GUWAHATI, India -- Buddhist monks of Arunachal Pradesh have asked Union power minister Sushil Kumar Shinde to scrap the hydroelectric power projects proposed to be constructed in Tawang as they would desecrate many sacred Buddhist spots in the district.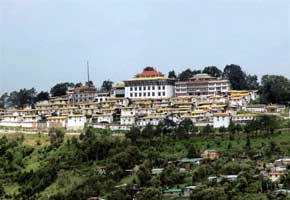 << Tawang
Lamas under the banner of Save Mon Region Federation (SMRF) met Shinde recently in New Delhi and raised their concern over 13 hydroelectric projects planned in Tawang, the birthplace of the VIth Dalai Lama.
The 400-year old Tawang monastery, highly revered in the Mahayana sect of Buddhism, is among the many sacred Buddhist spots in the district. The monastery, founded by Merak Lama Lodre Gyatso in 1680-1681AD on the wish of fifth Dalai Lama, stands on the spur of a hill about 10,000 feet above sea level. Tawang is also strategically important location for its proximity to Mac Mahon Line and China frequently claiming the area as southern Tibet.
"The spiritual and cultural heritage of Tawang is of great concern to the Mon community. This is the birthplace of the VIth Dalai Lama and is believed to have been visited by saint Padmasambhava. Besides, there are a number of holy sites associated with our saints along the Tawang Chu and Nyamjangs Chu river basin. These holy mountains and sacred landscapes will be affected by the proposed dams. We are against such desecration of our sacred land," SMRF general secretary Lobsang Gyatso said.
Pointing out that Centre had scrapped proposals for three dams on the Ganga due to religious sentiments, Gyatso said: "Similar steps should be taken to ensure that our sacred sites in Tawang and elsewhere in Arunachal Pradesh are not defiled. He added that the 1750MW Demwe hydroelectric project was also planned close to the holy site Parshuram Kund in Arunachal Pradesh.
SMRF said that discontent and anger of the people of Tawang against large number of hydroelectric projects would only benefit China, which claims the place as part of its territory. "People of Tawang have faith in the Union of India, but situations like these are instilling discontent and dissatisfaction among citizens. This is perhaps exactly the kind of sentiment China is banking on when it claims Tawang time and again," Gyatso said. He said that apart from environmental degradation and desecration of sacred places, the hydel projects would not help the people of Tawang as the electricity generated would be channelled outside.
SMRF was also concerned that these projects could jeopardize the area's "cultural dynamics" and the influx of migrant labourers would undermine the rights of indigenous people. "Tawang's population is barely 49, 950 and the 13 projects are set to bring in a peak labour force of over 100,000 people. This will ruin the cultural dynamics of the area where the rights of indigenous people have been constitutionally safeguarded," SMRF said.
TOP