Hemis Festival Celebrated by Drukpa Buddhists with Much Fanfare
The Buddhist Channel, Jul 3, 2012
LEH, India -- The 2-day annual celebration by the Drukpa Buddhists - the Hemis festival began today at the Hemis Monastery, Ladakh with much fanfare.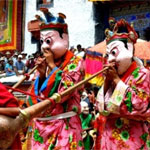 The festival was blessed by the spiritual head, His Holiness the Gyalwang Drukpa, and was attended by over 25000 guests from across the world. The courtyard of Hemis Gompa-the biggest Buddhist monastery in Ladakh is the permanent venue for the famous festival which commemorates the birth anniversary of Guru Padmasambhava, the 8th century Indian guru revered for spreading Tantrayana Buddhism throughout the entire Himalayas.
Drukpa Buddhists celebrate the legendary Hemis Festival with great enthusiasm annually. The colourful two-day pageant falls on the 10th day (Tse-Chu) of the Tibetan lunar month. The festival duration is marked as a local holiday, and involves the entire city. Locals dress up in their finest traditional garb for the occasion and throng the festival venue.
On the first day, People from a cross section of societies and countries jostled with each other to watch Lamas called 'chhams' perform splendid masked dances and sacred plays to the accompaniment of cymbals, drums and long horns. Sacred plays accompanied by cymbals, long horns and drums were also performed. The highlight of the Hemis Festival is the Masked Dance, performed by the monks, demonstrating good prevailing over evil.
The performers wear elaborate and colourful costumes and brightly painted masks. These masks are the most vital part of the dance. The dance movements are slow, and the expressions grotesque. The music is characteristically punctuated with sounds of cymbals, drums, and unwieldy trumpets. The monks with trumpets, Rgyaling i.e. pipe drums, cymbals, rounded shaped bells enthralled the gathering. The entire festival arena smelled heavenly because of incense sticks and other sweet smelling herbs. The first dance was setting limit or 13 black hat dancers, followed by sixteen dancers wearing copper gilded masks. Then there was the eight different forms of Padmasambhava followed by Guru Padma Vadjra .
On the second day, the monks will continue their traditional performances on various instruments, put on exhibition the thanka-painting of silk patwork of great Gyelsey Rimpoche. The monks afterwards assembled in hall & started the worship of Maharaja Pehara, a protector of Buddhist teaching. At 11 am the eleven Acharyas came out in the retinue of Maharaja Pehara.
About Drukpa Buddhists
The Drukpa Buddhists follow the Mahayana Buddhist tradition in philosophy, i.e. the philosophy of "getting enlightened for the benefit of others" and the methods are based on the Tantrayana teachings passed down from the great Indian saint Naropa, who was born in 1016 in West Bengal royal family. "Druk" in Tibetan means "Dragon" and it also refers to the sound of thunder. In 1206, more than 800 years ago, the first Gyalwang Drukpa Tsangpa Gyare Yeshe Dorje saw nine dragons fly up into the sky from the ground of Namdruk, and he named his lineage "Drukpa" or "lineage of the Dragons" after this auspicious event.
For more details, please visit: http://www.drukpa.org or http://www.drukpa-hemis.org
Some of the pictures for the same may be accessed at
https://www.yousendit.com/download/QlVqbUpmcGtUME5vZE1UQw
TOP