International Festival of Buddhist Heritage of Ladakh 2012
The Buddhist Channel, Aug 8, 2012
Leh, Ladakh (India) -- Mahabodhi International Meditation Centre, Leh, Ladakh, along with Nav Nalanda Maha Vihar, a University based in Nalanda, Bihar come together to bring an International Festival of Yoga, Meditation, Heritage, Culture, Talks, Art and Cinema to Leh, Ladakh from 3-9 September 2012.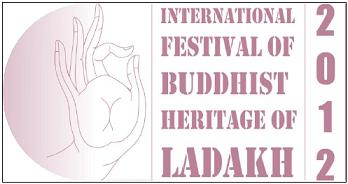 The objective of the festival is to promote an understanding and appreciation of the diverse ethnic culture of different parts and tribal communities of Ladakh, its ancient and vibrant Buddhist heritage, art and philosophy of Buddhism with the help of talks by eminent masters and scholars, seminar, ethnic exposition, films, cultural performances, photo exhibition, books, handicraft and culinary festival.
India is the land of origins of Buddhism and has been blessed as repository of Buddhist heritage and knowledge from ancient times besides being cradle of democratic and human values. In this 2600 years since the Sambodhiprapti "the enlightened awakening" of the Buddha, the festival is an endeavour aimed to foster and promote these values and knowledge and enhance global understanding of peace and compassion which are core tenets of Buddhism.
Ladakh is renowned world over for its unbroken ancient Buddhist heritage and this festival is being planned to coincide and partner the annual Ladakh Festival, organized every September by J&K Tourism Board. The International Festival of Yoga & Meditation held in September 2011 was path breaking in many aspects and attracted great participation and appreciation of both national and international visitors. By expanding the perimeters to include cultural and ethnic heritage, Buddhist teachings and philosophy as well as art and cinema it is hoped that the festival will evolve as an annual event to showcase not only the cultural heritage of Ladakh but also promote the understanding of shared Buddhist
heritage among countries with strong Buddhist tradition mainly in Far East and South East Asia.
The land of Ladakh is a land like no other both in geographical, social and spiritual terms, this is a young land, formed only a few million years ago uplifted against the immovable mass of Asia by unimaginable tectonic movement sculpted into the form we see today by wind and water. Likewise the social fabric of Ladakh has also been the result of churning it went through for being at the cross roads of great civilisations of India, Central Asia, Tibet, Mongolia and beyond. The ancient Buddhist rock engravings, Mani walls monasteries, hermitage, Chorten spread all over the region tells the story of being the cradle of Buddhism through which the learned masters treaded the journey carrying the precious cargo of wisdom of triple gem along its ancient path to Tibet and far reaches of Mongolia and Russia.
The festival truly aims at making the whole event a festive one where the tourists and the people attending can feel and enjoy the vibrant cultural and ethnic diversity ladakh offers.
As part of the festival a one day seminar on Tribal Communities of Ladakh and their Contribution in Preserving the Buddhist Cultural Heritage will be held at MIMC to be participated by eminent national and international scholars including those from Ladakh. Art and Culture have been the visual format of learning from the time immemorial and again our country's contribution is unparalleled in human history. Ladakh is blessed not only with being the cradle of Buddhism in India but also vibrant ethnic diversity that has shaped the land into an oasis of peace in the turbulent region all around. To bring forth this ethnic vibrancy as well as promote cultural exchange with other nations with shared Buddhist heritage cultural performances every evening showcasing different ethnic communities by cultural tropes from various parts of Ladakh and international troupes from Sri Lanka, Malaysia and Singapore will be the highlight of this festival.
Cinema is a very powerful medium that influence values and perceptions of the people either positively or negatively irrespective of age, race, religion and regions of the world. The educational value of cinema thus can never be underestimated and should be used to promote good values. Given so, this medium is being increasingly used to discuss and promote understanding of the concepts and philosophy of Buddhism. Buddhist Film Festivals are held world over and some of them have evolved as prestigious events in internationals calendar such as International Buddhist Film Festival, New York, London and Bangkok. The success of the recently organized Inner Path- Festival of Cinema, Heritage and Discourse by Asoka Mission, our partners in organising this festival, at Azad
Bhawan, New Delhi from 27th April 2012, was a pointer to the reach of art, culture and cinema in promoting Buddhist values. Carrying forward the idea and beam the Light of Asia through this ancient land of Buddhist heritage a festival of Buddhist Cinema is being held as part of the event. Each day there shall be screening of different films that shall showcase Buddhism its philosophy and universal human values through the cinematic experience. After the film is screened, there shall be an interaction session of the audience with the film delegates like actors and director of the films. A bouquet of best of award winning feature films and documentaries by eminent masters of the craft will be screed during the 2 days of the festival and it is hoped that this will also evolve as an annual feature in the calendar of events in Ladakh attracting worldwide attention.
To make this international festival a meaningful experience an exhibition of photographs by Shri Benoy Behl titled The Greatest Journey of Ideas: Spread of Buddhism will showcase a photographic journey of Buddhist art and heritage from 19 countries. Shri. Benoy Behl, is a renowned film maker, art-historian & photographer, known for his tireless and prolific output of work over past 35 years.
He has taken over 35,000 photographs of Asian monuments and art heritage, made a hundred documentaries on art history; his exhibitions have been warmly received in 28 countries around the world. Mr Behl has graciously agreed to attend the event.
Every year there is huge number of international tourist and members who come down from all across the globe at Mahabodhi international meditation, Ladakh to participate for yoga and meditation. It's normally five days workshop and mind training schedule that takes place under the guidance of able gurus and monks who have mastered in yoga, meditation and Buddhist practices.
Last year's festival had attracted huge participation of international delegates and this year too Yoga and Meditation will be the main focus of the festival. Already a number of international delegations mainly from south East Asia including a delegation from Malaysia led by Chairman of the Malaysian Tourism Promotion Board have confirmed their participation in the event.
As they say, knowledge is incomplete without a guru, so goes with the learning and practicing of spiritualism also. A deeper understanding and closer view to the insight can be only viewed through the guidance and direction of a guru and here in the festival will bring talks and interactive session with most learned and eminent spiritual masters both from Ladakh and other parts of the country and abroad. On each festival day, an invited Buddhist scholar / expert will deliver a talk on different aspects, traditions and practices of the Buddhist philosophy.
Further to provide a holistic, wholesome and insight understanding of the Buddhist cultural heritage of Ladakh exposition of the traditional medicine system known as Sowa Rigpa. This traditional form of Astro- Medicine is practiced throughout trans-Himalayan region from Ladakh, Himachal Pradesh, Sikkim, Arunachal Pradesh, Tibet, Nepal, Bhutan, Mongolia and Russia. During the festival free medical check up by Amchi, the traditional doctors, preparation of astro- charts, sale of medicines etc will held to promote understanding of this ancient art of holistic healing and cure.
Book exhibition is another prominent feature of this festival and Motilal Benarsidas, world's foremost publishers of books and journals on Indology, spirituality, religion and philosophy has agreed to participate. Local publishers, libraries and writers will also be invited to participate. However to make it more meaningful, informative and wholesome experience for the visitors exhibition and display of ancient scriptures, books and most importantly Thankga paintings and butter sculpture will add tremendous value and experience to the festival and surely lead to make it an event that people both local and worldwide wait every year with eagerness.
A tour to various monasteries and cultural destinations in Ladakh has been arranged as part of the festival for visiting international and national delegates and participants to provide an insight in the rich living cultural heritage of the region.
The visiting international delegation also comprise of a delegation from Malaysia led by Datuk Dr Victor Wee, Chairman Tourism Promotion Board of Malaysia and also Dy Secy General of UN World Tourism Organisation. He has been credited with promoting Malaysia among the top ten tourist destination of the world. Besides he is also actively involved in promoting Nepal as tourist destination besides developing Lumbini, the birthplace of Buddha as world peace city. Definitely this is an opportunity not to be missed in promoting Ladakh as value added branded quality tourist destination in South East Asia both for its geographic and natural beauty but also its rich ancient cultural heritage and diversity as well as Buddhist pilgrimage and knowledge destination. Thus an interactive session between the visiting dignitary, the Hon'ble Tourism Minister of J&K and representatives of local tourism industry has been planned.
India is the land of origins of Buddhism besides being an ancient land of origins of human civilization itself with rich cultural and ethnic diversity and we wish to share in presenting our rich repository of knowledge and traditions to promote an international understanding of India as land of Dharma and custodian of Buddhist heritage.
TOP