Soul searching
by Gauri Kohli, Hindustan Times, September 25, 2012
New Delhi, India -- Delhi University's department of Buddhist studies has been a major centre for the study of Buddhism for many years, attracting a large number of students from as many as 37 countries.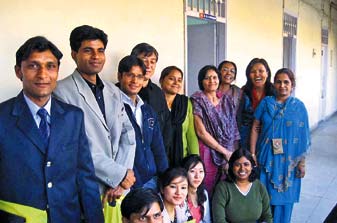 << Global appeal: The department attracts a large number of students from 37 countries
"The department allows us to explore this subject from as many different points of view as possible. My course has taught me to be more calm and composed and has improved my interpersonal skills," says Savita Chhikara, an MPhil student at the Department of Buddhist Studies, Delhi University.
Most students who take admission to this department are foreigners who come from different countries where Buddhism is a major religion. In those countries, Buddhist studies is a very popular subject in the schools, colleges, and universities and considering that Buddhism is the original home of India, getting a degree from here is considered very important.
"Many of these students are monks and nuns who when they go back after training from here, take up jobs in different educational institutions as teachers and/or as dharma teachers in their monasteries. My own experience tells me that these scholars play an important part in building good relations between India and the countries from where they come. ASEAN (Association of South East Nations) is one such good example," says KTS Sarao, head of the department.
USP: "We teach our students about spirituality and culture. In today's profit-oriented world, we constantly think about fulfilling the basic needs of food and shelter. This is why we focus on spirituality because it makes us humane and compassionate," says Sarao. A few students even feel "enlightened" after coming here.
"When we study Buddhism, we are studying ourselves. The emphasis is on more practical matters such as how to keep our everyday lives peaceful and healthy, how to lead our lives and how to integrate our minds. We learn a lot through experiential knowledge," says Sapna, an MPhil student who also holds a master's degree in Buddhist studies. With a BEd degree also in hand, she plans to go for a PhD in the same subject to be able to become a teacher.
Programmes: Academic courses offered are PhD, MPhil and MA in Buddhist studies, diploma in Pali language and literature; diploma in Tibetan language and literature; certificate course in Pali language and literature; certificate course in Tibetan language and literature.
Faculty: The permanent faculty comprises six members and others have been appointed by on ad-hoc basis as guest lecturers.
IT quotient: All the teachers' rooms and offices are equipped with computers and internet. Students and research scholars have access to the IT facilities of the university in the arts faculty and central library. All classrooms are fitted with LCD projectors.
Infrastructure: The departmental library is a unique feature which contains the Pali Tipitaka in Nagari, Roman, Sinhalese, Burmese, and Cambodian scripts and other books dealing with various aspects of Buddhist studies.
Projects and activities: The department has been publishing its annual journal known as Buddhist Studies since 1974. Teachers, research students, alumni and renowned scholars from outside the department are invited to contribute to this journal. Students also participate in national and international conferences and seminars on the subject.
Factfile
The department was opened in 1956 by Pandit Nehru, marking 2500 years of Buddhism. The purpose was to promote advanced study and research in Buddhism
Wishlist
Students want more cultural events to be conducted at the department
TOP