Sanchi Buddhist varsity to have 5 departments
Daily Pioneer, 19 September 2012
Bhopal, India -- Sanchi Buddhist and Indian Knowledge Studies University, proposed to be established in Raisen district of Madhya Pradesh, will have five departments, including Buddhist Philosophy, Sanatan Dharma and Indian Knowledge Studies, International Buddha Studies, Comparative Studies of Religions and Languages and Literature and Arts. About 100 acre land has been reserved for the university's premises and building at Sanchi. Construction of building will cost Rs 200 crore.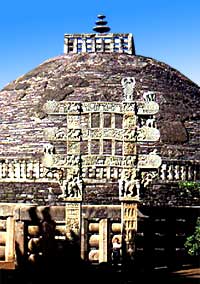 Culture Minister Laxmikant Sharma has informed that foundation of this unique and first of its kind university will be laid at Sanchi on September 21 at 11.30 am. The foundation laying ceremony will be attended by Sri Lankan President Mahinda Rajapaksa, Bhutanese Prime Minister Leo Jigme Thinley, Governor Ram Naresh Yadav, Chief Minister Shivraj Singh Chouhan, Leader of Opposition in Lok Sabha Sushma Swaraj, Prakash Ambedkar, Swami Dayanand Saraswati and Ven Bangal Upastissa Nayak Thero.
At the university, research and teaching will be done on all aspects of Indian systems along with Buddhism in India and abroad.
The university will conduct studies on Buddhist education, contemporary philosophies and traditions. The university will coordinate between basic principles of Indian knowledge and concepts with those of other cultures and civilizations of the world and promote research and studies to this effect.
Besides promoting world peace and harmony by bringing Asian cultures and civilizations on one platform, the university will also impart teaching and training in Asian arts, sculpture etc. Participation of Asian and international scholars and other willing persons will be ensured for furthering objectives of the university.
On September 22, a two-day Dhamma-Dharma Convention will be held at Bhopal. The keynote speaker on the first day of the convention will be Prof Anand Guruge who is professor in USA. Vedacharya David Frawley (Vamdev Shastri) of Sante Fe, New Mexico, USA will be the keynote speaker on the second day.
TOP