The Buddhist Heritage of Andhra Pradesh
By Dhanesh Wisumperuma, The Nation, 25 November 2012
Hyderabad, India -- Building hosting Buddhist Galleries at State Museum at Hyderabad Buddhism originated in the 5th century BCE in present day India. It flourished in many parts of India for the next millennium, partly due to the patronage of various kings and dynasties.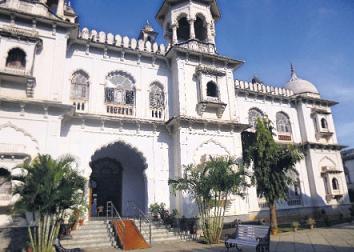 Numerous factors contributed to its decline thereafter. Today although Buddhism is not a major religion in India, there are a vast number of Buddhist sites of religious and archaeological importance in the country. Some of these are world famous, such as Bodhgaya, Sanchi and the Ajanta Caves.
Buddhism came to what is now called Andhra Pradesh, a southern state of India, in the early period and flourished there for the next few centuries. It is evident that all forms of Buddhism such as Theravada, Mahayana and Vajrayana found residence in this region. Although Buddhism declined in Andhra Pradesh during the latter part of the 1st Millennium CE, there is evidence to suggest some of the sites had social and religious currency until the 14th century. What remains of the above period are various ruined sites which are now considered a part of Indian 'heritage'. Some of them are now marketed as tourist attractions.
Such ruins first grabbed the attention of scholars and colonial administrators in the late 18th century. With the stabilization of the British administration these archaeological artifacts were explored and subjected to scholarly appraisal. Archaeology authorities of post-independent India continued this tradition in various parts of the country, including Andhra Pradesh. A small but detailed booklet titled 'Buddhist Archaeology in Andhra Pradesh' published a few years ago sketches out the story of these discoveries.
There are a total of approximately 150 Buddhist monuments and other sites identified within the present boundaries of Andhra Pradesh so far. These sites contain monuments of various types, including stupas and large monasteries and cave complexes. Quite interestingly, Buddhist sites are being discovered even at present. A new Buddhist site was discovered as recently as a few weeks ago on the banks of the Gosthani River, at Gudiwada village of Bhogapuram Mandal in the Vizianagaram District. The site has been identified as belonging to the early periods of Buddhism and was reported in 'The Hindu' newspaper on October 9, 2012. In 2010, remains of stupa were found under the foundations of a Hindu shrine, which speaks of what happened to some of the sites after the decline of Buddhism. The wanton destruction of some of these sites has been recorded by British archaeologists.
The most celebrated sites
Some of the Buddhist sites in Andhra are renowned for historical and \archaeological significance, in particular Nagarjunakondda and Amaravati. In addition a large number of relic caskets have being unearthed from a number of Buddhist sites in Andhra Pradesh. These sites, sometimes known as 'relic casket sites', include Battiprolu, Bavikonda, Ghantasala, Salihundam, Gudivada, Guntupalli, Jaggayyapeta and Kottur. Some writers opine that Andhra Pradesh is the state with the highest density of relic caskets.
Amaravati is another famous Buddhist site located close to the Krishna River and is believed to date to around the 3rd century BCE. The large mahastupa was originally built by King Ashoka while many other buildings are said to have been constructed over at least four phases. The Amaravati ruins first caught the attention of scholars in the late 19th century and a number of collections of artifacts from Amaravati complex are exhibited in a number of museums around the world. Relic caskets were discovered here during the excavations conducted during the period of 1957-67 at the mahastupa site. It is said that there is evidence to state that a Mahayanic site was later transformed into a Tantric Vajrayana site. The style of sculpture style is in fact referred to as the Amaravati School of Art or Amaravati Sculpture and is well known for its narrative style. The influence of Amaravati art is said to spread to other areas including Sri Lanka.
Nagarjunakonda is an ancient Buddhist monastery complex situated on the banks of the Krishna River. It was a prominent center of learning during ancient times and takes its name from the scholarly monk Nagarjuna who lived during the 2-3rd centuries and was resident here. He is considered a great philosopher monk and founded the Madhyamika School of Buddhism, which belongs to the Mahayana tradition. The present site is said to have been earlier called Sriparvata and the present name in Telugu means 'Hill of Nagarjuna'. Numerous Buddhist remains have been excavated since its discovery in 1926. The remains unearthed include a mahastupa, remains of several monasteries and numerous artifacts including inscriptions and sculptures. As the original site was inundated with water during the construction of Nagarjuna Sagar reservoir built in 1960s, these have been reconstructed on higher locations close by.
There are many important sites which are lesser known to the outside world, such as Bavikonda, situated close to Visakapatnam on the eastern coast. According to records, Bavikonda contains the remains of a mahastupa, several other stupas and congregation halls, evidencing clearly a well-established monastery complex. Conservation work on the mahastupa was carried out in 1993 and yielded caskets believed to contain relics of Siddhartha Gauthama, the Enlightened One, which are exhibited at Hyderabad Museum.
Hyderabad Museum – The showcase of the Buddhist Heritage
The State Archaeological Museum of Hyderabad has a good collection of Buddhist finds. The two main galleries of the museum are dedicated to these. Gallery 1 is the 'Holy Buddhist Relic Gallery' holding relics found from the ancient Buddhist monastery complex of Bavikonda. The next gallery is the 'Buddhist Sculpture Gallery' where sculptures, decorative dome panels and statues found in various parts of the state are exhibited. Buddha statues in display belong to the Amaravati School of Art. They contain material mainly from Nelakondapally, Chandavaram, Bavikonda and Uppugundur. However some of these are classic works of limestone. Some of the vandalized or mutilated parts of these artifacts constitute silent evidence of what took place during the course of history.
A third gallery is dedicated to copies of Ajanta Paintings done about sixty years ago. These copies were made during the administration of Nizams of Hyderabad in 1949. Two artists, namely Khan Bahadur Syed Ahmed and Jalaluddin, were commissioned by the Nizam to undertake this monumental task.
Buddhism today
There is a small population of Buddhists living in Andhra Pradesh, numbering around 32,000 according to the census of 2001. This is quite small when we consider the total number Buddhists in India, i.e. about 8 million. Buddhism seems to be part of the culture in Andhra Pradesh. Buddhist tourism is being promoted by the Andhra Pradesh government and tourism authorities. They call it 'Ancient Buddhist Bastion' in their promotional materials. There are festivals sponsored by the state authorities as well. The Department of Tourism and Culture and the Department of Archaeology and Museums celebrate Buddha Purnima (or Vesak) every year in Hyderabad. They had once even taken relics on a procession to mark this event.
The well-known Ananda Buddha Vihara is a temple located in the Mahendra Hills in Hyderabad and is the center for the propagation of Buddhism in the state today. The Buddha statue mounted on a small island in Hussain Sagar Lake was built as a part of 'Buddha Purnima Project' implemented in 1980s is also a prominent landmark in Hyderabad. Both attract tourists, local and foreign.
TOP