Thousands attend The 17th Karmapa's 8-Day teachings in Sarnath
by Yeshe Choesang, The Tibet Post Tuesday, 26 February 2013
Sarnath, India -- His Eminence the 17th Gyalwang Karmapa Ogyen Trinley Dorjee has begun an 8-day teaching starting from February 21 at Vajra Vidya Institute, Sarnath, Varanasi- one of four holy Buddhist sites in India, with conducting extensive prayers and seminar by Buddhist monks and thousands of devotees from different parts of the world, including many who have came from Nepal.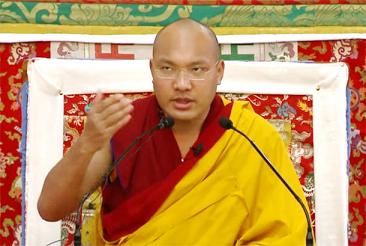 Coinciding with an annual dharma seminar at Vajra Vidya Institute being led by Khenchen Thrangu Rinpoche on Thursday, February 21, the 17th Karmapa Rinpoche has commenced a week-long series of teachings on a text which has been one of his personal favorites since a young age, called 'Tri Thung Gyatsa' or 'One Hundred Short Instructions.'
The text, composed by the glorious 8th Karmapa Mikyo Dorjee, comprises a treasury of pith instructions spanning the entire path to enlightenment. Each instruction is skillfully crafted so that the reader can enter the text at any point to find a gem of the 8th Karmapa's heart advice and enlightened wisdom. "From time to time I myself take a look through these 100 short instructions, and I really feel that they are very beneficial for me," the Gyalwang Karmapa said. "All of these instructions are given for serious practitioners," he continued, "and sometimes they are extremely forthright. They go straight to the heart of the matter."
Deciding that it would be beneficial to focus on one or two of the instructions contained within the collection, the Gyalwang Karmapa chose to begin the teachings with an instruction on 'Rules for Karma Kamtsang Meditators'. From this somewhat abstract title, His Eminence then began by emphasizing the need to contemplate death and impermanence in order to generate a sense of renunciation from worldly concerns, as a necessary precondition to genuine dharma practice. The Gyalwang Karmapa urged those gathered to use their own intelligence in understanding and practicing the essence of Buddhism, rather than just blindly following traditions or customs.
"The essence of Buddhism is being able to distinguish what it is that we need to do from what it is that we need to give up. We also need to identify what it is that will harm ourselves and others, and then we need to give that up. So you can condense it all into doing what is beneficial and giving up what is harmful. We need to know what the essence of dharma is, and then bring it into our lives."
He stressed the importance of not delaying the practice of the dharma, but rather taking the teachings on death and impermanence to heart and allowing them to motivate our practice in the present moment.
"If we are going to practice the dharma, this is what it means and we need do this now in our lives. We might think that we have our whole lives to do it, but we need to start doing it from today. This is not something that we should think, 'Oh I can start tomorrow, or I can start the next day, or I can do this when I'm older.' We need to do dharma practice now. We cannot postpone this. We need to start it right now."
devotees-sarnath-2013As the rain of dharma continued for a second day, the Gyalwang Karmapa opened the teaching by once again reiterating the urgency to practice the dharma right now, in this very moment. "We need to practice the dharma from now. We need to do it on this very seat, in this very session. It's right now that we need to begin the dharma. If we postpone it, if we think to ourselves I'm going to do it tomorrow or the next day, then we will not be able to really practice the dharma well. It's important to understand this."
From this urgent call to practice, the Gyalwang Karmapa then turned his attention to making sure that we do it properly. He observed that there are many people who wish to practice the dharma, but don't truly know how. By focusing mainly on the external appearances of our practice without carefully checking our mind, we can easily fall into the trap of spiritual materialism.
"Sometimes when we practice dharma we think that we need to show some sort of external or physical sign of it. We pay a lot of attention to the rituals and these actions of our body and speech. This is practicing dharma when we're focusing outside. But instead what we need to do is turn our attention inwards. We need to see whether what we're doing is functioning as an antidote to the afflictions or not. We need to see whether we are taming our mind or not. We need to see whether our mind is improving, getting kinder, or not. If we don't look at it in this way then there's no benefit to doing these actions – we think that we are trying to do the dharma, but actually we are just making a show with our body and speech. We are putting on appearances, and that's all we really take an interest in. And the moment that happens, this becomes spiritual materialism."
Expanding his focus to the wider twenty-first century world we inhabit, the Gyalwang Karmapa touched on both the ways it shapes us as people and the ways that we as individuals in turn can shape it. Observing the growing trend towards materialism in the modern world, he encouraged the audience to look beyond the idea that happiness can be found outwards in external things.
"These days in the 21st century it's a very materialistic time. Most of the time, we don't really know what true happiness is. Many people have the idea that external things and external conditions will bring them happiness, and will lead them to the real meaning. But when we think about material things, the more we have of these things the more disturbances we have. The more difficulties we have. Things get more and more problematic. We have more and more busyness, and what happens then is that we lose ourselves. We lose our nature, what really is there."
Continuing his exploration of our place in the modern world, the Gyalwang Karmapa skillfully reminded each person of the important role they play in shaping an increasingly interconnected and ever-more deeply interdependent world.
"In this Information Age people are developing closer and closer connections with each other. All the people in the world are seeing that they have greater mutual connections. It has become very clear to us that these are deeper and stronger connections. When we think about our own good acts and wrong acts, we can see more clearly how they have an effect on the world. We can see that the individual things that we do are connected to the benefit or the harm of the world. They are deeply connected to the happiness and suffering that is in the world. The good and bad acts of one person are becoming the good and bad of the world. When we examine the good and bad that we do, we can see that it is becoming even more profound and even more vast. It's the good and the bad that people do that determine on a fundamental level if there is peace or happiness in the world. It's very tightly connected."
Returning once again to the theme of the previous day, the Gyalwang Karmapa continued his guidance on how to practice the dharma correctly, until we eventually reach a point where the dharma and our life have merged.
"To really practice the dharma we have to understand the dharma, and we have to have full dedication and interest in it. When we have that, only at that point are our dharma practice and the individual who is practicing the dharma, no longer separate from each other and become the same in flavor. That is the point when our dharma practice and this life become part of each other and they share the same nature."
Moreover, as dharma practitioners we also need to truly understand and accept impermanence. We need to develop our ability to be relaxed and open to changes as they naturally occur, accepting situations as they arise around us.
"When, because of external or internal circumstances there comes some sort of a change, we need to be able to go along with that change. So whatever happens, we go with the flow of events. If we are able to do this, then in our own mind we can be more relaxed. We can be more expansive. When we go along with that we can be comfortable, relaxed and spacious in our minds. If we are able to do this then we are able to be happy, and to have a comfortable and content life."
His Eminence the 17th Gyalwang Karmapa then urged his students to uncomplicate their worlds, by keeping a simple outlook on life. Delivering profound guidance with skillful simplicity, he emphasized the importance of living grounded in the present moment, and of seeing the good that is already right in front of our eyes.
"The best thing is to be in the present. It's better if we don't have too high hopes for the past or the future situations. It's better just to stay in the present. Whatever is right in front of our eyes, we need to be able to see the good in it. If we can see the good in it, then good things will be able to occur from that. I really feel that it helps to try to just have a simple outlook on life."
"When we are trying to figure out what the essence or the meaning of life really is, then it's not just a question of looking inside oneself. Sometimes we have to look outwards to see the meaning we hold for others. We have to look in all different directions to be able to see what is good about our life."
On the fourth day of the Spring Teachings the Gyalwang Karmapa turned the focus firmly inwards: if we look inside our own minds, a wishful-filling jewel is already waiting. "When we are trying to figure out what the essence or the meaning of life really is, then it's not just a question of looking inside oneself. Sometimes we have to look outwards to see the meaning we hold for others. We have to look in all different directions to be able to see what is good about our life."
With the chanting lasting from morning until night, the prayers were culminated in a grand long-life prayer offering (Tibetan: Tenshug) to His Eminence the 17th Karmapa on the auspicious day of 25 February, which is known as Chotrul festival. The prayer event was lead by Ninth Khenchen Thrangu Rinpoche, one of the senior most Rinpoches and foremost elders of the present Kagyu lineage, who is the Abbot of the Institute in Saranath.
TOP