Sri Lankan Buddhist Monk under attack in Tamil Nadu
Asiantribune.com, March 17, 2013
Chennai, India -- A Buddhist monk from Sri Lanka - Ven. Gnanaloka Thero (46) had been with a group of 18 students comprising Indian, Myanmar and other nationals who was in Thanjavur for academic research, bore the brunt of the latest wave of anti-Lanka protests that has gripped the State lately.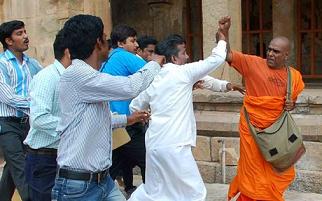 << The Buddhist monk Gnana Tero being confronted in Thanjavur on Saturday
Police rescued Ven. Gnanaloka Thero safely and the other students had been escorted to immediate safety at the Police Station and arrangements had been made for all the students including the Sri Lankan monk to leave Thanjavur immediately and depart to the Trichy airport under police protection. From Tiruchy, he boarded a flight to Chennai before leaving for New Delhi.
Police who rescued the monk in time and safely transported him to Tiruchy Airport on Saturday, around 2 pm with heavy security, but, MDMK men pelted stones at the vehicle ferrying the monk and when the vehicle neared G-Corner. From Tiruchy, he boarded a flight to Chennai before leaving for New Delhi.
Ven Gnanaloka Thero who is pursuing a Postgraduate Diploma in Archaeology at the Institute of Archaeology of India has been studying in India in New Delhi for the past 18 months and has visited several Indian states on study tour.
The Buddhist monk, Gnana Tero (46), reached Thanjavur Big Temple on Saturday, and was learning about the archeological pattern of the iconic temple.
Members of some Tamil outfits reached there and, all of a sudden, Tamil Desiya Pothu Udamai Katchi district organiser P Rajendran and Naam Tamilar Katchi state organiser A Nalladurai assaulted the monk.
A police team led by Superintendent T S Anbu rushed to the scene and arrested Rajendran, Nalladurai and 9 others.
The Sri Lanka Deputy High Commissioner's Office in Chennai and the Sri Lanka High Commission in New Delhi made immediate arrangements for the safe return of Ven. Gnanaloka Thero to New Delhi last evening and Ven.Thero will continue with the course of study in New Delhi .
The incident has received immediate attention at the highest levels of the Government of India and the state government of Tamil Nadu.
Police have registered a case in Ariyamangalam and have arrested 5 persons belonging to the MDMK (Marumalarchi Dravida Munnetra Kazhagam) and the NTK (Naam Tamilar Katchi) in connection with the incident.
TOP