Pay more attention to Buddhists, Rinpoche tells India
by Aarti Dhar, The Hindu, June 23, 2013
Leh, Ladakh (India) -- Buddhist spiritual leader Kyabje Thuksey Rinpoche has said the government should give more attention to Buddhism as its followers are along the international borders and are crucial for national security.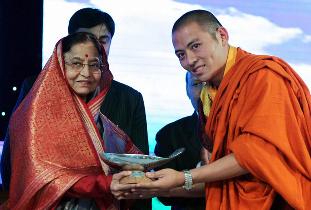 << Kyabje Thuksey Rinpoche was receiving the trophy of Green Hero from the Honourable 12th President of India, Pratibha Patil in Hong Kong, 2010 (File pic)
"I feel the (Indian) government pays less attention to Buddhism as compared to others. We always pray for the country and its borders are protected by the followers of Drukpa Order of Buddhism, who are settled along the international boundaries," the Rinpoche said during an interaction with a group of visiting reporters.
Rinpoche is ranked second in the Drukpa lineage hierarchy of Tibetan Buddhism, which is the most predominant Order of Buddhism in India and has a large number of followers in Ladakh, Himachal Pradesh, Arunachal Pradesh, and along the Tibetan border. He is also the chairperson of Druk Padma Karpo Educational Society which runs the famous Druk Padma Karpo School of the Hindi film '3 Idiots' fame.
"During the recent Chinese incursion, we prayed for the country," the Rinpoche said.
Born in Chushul in Ladakh, the Rinpoche was recognised as the reincarnation of 1st Thuksey Rinpoche (Drukchen Dungse Rinpoche) by the 14th Dalai Lama and the 12th Gyalwang Drukpa in July 1987. In June 1988, he was taken, first to Chemday monastery and then to Druk Sanga Choeling monastery for enthronement. Until 18 years of age, he studied at his own monastery in Darjeeling. For higher studies, he went to Bhutan where he spent nine years. He graduated from Tango Buddhist University in March 2013.
The Drukpa Order flourished in Ladakh because it received royal patronage and 70 per cent of the Buddhist followers owe allegiance to this lineage. Founded in the 17th Century, the Hemis Monastery is the oldest monastery of the Drukpa Order in Ladakh. According to the Rinpoche, the Hemis Gompa (monastery) has some of the most famous holy relics which are thousands of years old.
"We have a hand written manuscript of Jesus Christ in our secret library but we have not yet got the opportunity to make it public to the world," he said.The Hemis Monastery organises the famous yearly Hemis Festival, which is a reflection of the rich traditional and cultural heritage of the Drukpa Buddhism. For the past four years, it has been organising the Annual Drukpa Council which is a congregation of leaders of Drukpa Order from across the world. The Council deliberates on the challenges of the present day.
Serious challenge
"Modernisation is a serious challenge for us as people are showing lesser interest in religion, but there still are people wanting to become monks and nuns," he said. Environmental degradation is another issue that will be discussed at the Council to be held in August.
TOP