India pledges to protect Buddhist shrines after temple blasts
by Dean Nelson, The Telegraph, 16 Jul 2013
New Delhi, India -- India has reassured Burma and other Buddhist countries it will prevent further attacks on sacred shrines after the temple site where Buddha attained enlightenment was bombed last week.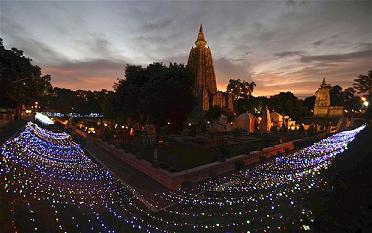 Burma believes Islamic militants may have carried out the attack on the Bodh Gaya site in revenge for violence against its Rohingya Muslims in Rakhine state by majority Buddhist groups.
Tensions between the two religious groups have flared throughout eastern India, Burma and Bangladesh since Burmese Buddhists attacked Rohingya homes in June last year killing 78.
According to Burmese Rohingya campaigners an estimated 80,000 have been displaced from their villages since then, 650 have died and 1200 are missing. The violence spread to neighbouring India's north-eastern states in August last year and provoked an exodus of several hundred thousand Assamese migrant workers in Bangalore and Mumbai who feared Muslim revenge attacks.
The attack on Bodh Gaya on July 7th has bot yet been claimed by any terrorist group and investigators and analysts alike are baffled by its purpose. Buddhism's holiest site, Bodh Gaya is home to the Bodhi tree, said to be a descendant of the original tree under which Buddha meditated in his search for enlightenment.
The bombs exploded in the early hours of Sunday morning and appeared to have been timed to avoid major casualties. Intelligence analysts said the attack may have been a warning for India to put pressure on the Burmese government to protect the Rohingya or dry run for more ambitious and deadly attacks.
"There is a feeling in Myanmar [Burma] because of the events in that country that there was a likelihood of some terrorist response," said one senior Indian official. Burmese security officials had been warned radical groups Islamic militants might strike, but had not been expected to attack targets outside the country.
Last week Bhiku Wirathu, the Burmese monk who has been dubbed the 'Buddhist bin Laden' accused Islamic militants of carrying out the attack to fuel further violence.
"I am sure they did it. They are trying to take over Myanmar by violence, like they tried in Southern Thailand. Unrest in Myanmar is almost over, but extremist forces are trying to use the clashes in Myanmar to justify violent activities elsewhere," he told the Indian magazine Outlook.
The attack was launched after India's foreign secretary Ranjan Mathai arrived to boost economic, political and military ties between the two countries which were once both part of British India.
Indian officials said once its National Investigation Agency had completed its inquiry, it would share its findings with the Burmese government.
"Large numbers of their pilgrims come to Bodh Gaya. Everywhere where Buddhists come to India, they can be assured we've drawn important conclusions from what happened and we will ensure security," said one senior Indian official.
Security has now been increased at temples and Buddhist shrines and monuments throughout India.
Although India's Buddhist population is relatively small, the religion has played an important role in its history. Its celebrated emperor Ashoka was a Buddhist, several of India's national symbols are Buddhist, and its Buddhist heritage plays an important role in developing its ties with Buddhist majority neighbours beyond its eastern border.
TOP