Ancient Buddhist center in India hungry for Chinese investment
Xinhua, Apr 18, 2014
Patna, India -- Local officials in the eastern Indian state of Bihar are trying to attract foreign investments and revive the area's former glory–known as the original site of the first recorded activities of Siddhartha, or Buddha, that once made it the center of the Maurya Empire of India in the 3rd century BC and visited by pilgrims from China and other countries some 1,500 years ago.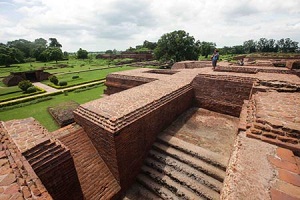 << The site of the Nalanda temple, India, July 12, 2013. (File photo/Xinhua)
The Museum of Patna, nearby, has a special chamber where a casket reportedly containing the corporeal relics of the Buddha are housed, and the area is also close to Nalanda, the ancient university town where 7th century Chinese Buddhist pilgrim Xuan Zang once studied.
Despite its rich cultural heritage, the area has remained poor and underdeveloped but there are now serious efforts to transform the state's agriculture-based economy into one that will be anchored on industrial and trade-based development through investments in food processing, manufacturing, mining and other export products.
During a meeting with a joint delegation from the Chinese Embassy and Chinese consulate general in Kolkata led by Chinese Ambassador to India Wei Wei this week, the local chapter of the Indian Chamber of Commerce expressed an interest in promoting cooperation with Chinese enterprises, particularly those involved in food processing, tourism, traditional Chinese medicine, and exports.
With very few foreign investors venturing into this area of India so far, local businessmen believe Bihar, the third most populous state of the country, has a lot of space and opportunities for foreign investors now and in future, considering its high density population, huge market potential and great human resources.
"Before the state did not need much investment since its agriculture-based economy was self-sustaining but now the situation has changed and they have a catching up to do along with the rest of India," said one local businessperson.
The state is still in its preliminary phase of setting up industries which can be listed on the Indian stock exchange and produce goods for export.
In an industrial area in Hajipur, 50 km north of Patna, plants are now producing beverages and food products. Lumbini Beverages, for example, set up in l996, is now one of the biggest producers of a popular soft drink in South Asia and sells its products all across India as well as in Nepal, Bhutan and Bangladesh.
"We are hungry for industry," said Ravi Khilani, director of Lumbini Beverages, and one of the members of the Khilani family which owns the company. He said Bihar is rich in agricultural products but needs industrial and technological support to create a strong economy.
The 50 industrial sites in Bihar, with a total area of 5,600 acres, have been designed after the concept of China's burgeoning industrial parks but they lack the infrastructure, facilities and technological support that are needed for an industrial park to lure foreign investors.
During the meeting, Ambassador Wei, who was previously posted as China's ambassador to Singapore, told local businessmen that he wanted to sell to Bihar the idea of setting up an industrial park that can attract foreign investors.
"My purpose here is to look for investment opportunities in Bihar, particularly in helping create an environment conducive to investments. I am pushing for the concept of industrial parks as a model for foreign investors," he said.
MK Saharia, chairperson of the Center for Promotion of India-China Cooperation and head of Northeast Initiative of the Kolkata-based Indian Chamber of Commerce, expressed the hope that China could help Bihar not just in investments but also in technology transfer.
He said the potential for economic cooperation between China and India is tremendous, adding that contrary to popular perception, India does not impose any restrictions on Chinese investments in India.
Saharia said he is optimistic that Bihar and other eastern Indian states can strengthen ties with China in future, adding that the two sides can initially set up a joint working group that will promote more interaction and cooperation between the two countries not just in trade but also in other aspects such as culture and tourism.
TOP