In Jammu & Kashmir, Buddhist NGOs corner most foreign aid
by Masood Hussain, ET, Apr 19, 2014
Kashmir, India -- Buddhists have displaced Christian groups as the biggest recipients of foreign aid in Jammu and Kashmir. In the past seven years, non-governmental organisations based in and around Buddhistdominated and sparsely populated Leh have cornered more than half of the total funds that NGOs in the state have received, government records show.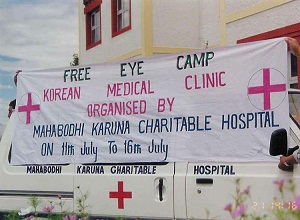 << The last 8 years have seen Buddhist organisations in Jammu & Kashimir getting more funds than Christian bodies
As much as Rs204.65 crore (about US$ 45.5 mil) in foreign contributions landed in J&K in the seven-year period ended in fiscal 2012-13. Of this, NGOs in the desert district of 1.47 lakh people got Rs104.42 crore. More recently, in 2012-13, 61 J&Kbased NGOs registered under the Foreign Contributions (Regulation) Act received Rs29.63 crore from abroad.
These included 37 NGOs operating out of Leh which had mobilised Rs19.29 crore, followed by 12 possible Christian groups who reported Rs7.62 crore. The remaining went to NGOs in Srinagar and Jammu. The main take away from the data is the fall in contributions that Christian organisations have been receiving.
For decades, the microscopic Christian minority - J&K has a Christian population of a little over 20,000 - had remained the principal recipients of overseas aid. They have been the oldest players in Kashmir's educational sector. Protestants and Catholics have built a chain of schools across J&K and all these are running on commercial basis now, which probably has reduced their need for external funding.
The last time total foreign funding of Christian NGOs crossed into double digits was in 2006-07, when they received Rs10.06 crore. Since then their share in total aid has been falling steadily. In the past seven years, their cumulative receipts have been Rs60.28 crore. A major share of foreign money that flows into Leh is also spent on education.
There are also NGOs like the Ladakh Ecological Developmental Group, which works with underprivileged classes on culture, environment and sustainable development. One of the groups that have been active in the region is Students' Educational and Cultural Movement of Ladakh, or SECMOL. The movement was founded by Sonam Wangchuk, whose life inspired the super-hit Bollywood movie 3 Idiots.
SECMOL's activities had helped improve the standard of education in government schools, literacy rate and overall pass percentage in the region. The organisation has received Rs1.79 crore in foreign aid in seven years. There are many other NGOs which have received much more than that. "There might be 50 groups managing offshore resources, but I do not think the most active are more than 15," Wangchuk said. "There are many private schools which charge substantial tuition fees despite managing a share from charities abroad." Two Lamdon schools had raised Rs13.02 crore in past seven years.
The Ladakh-based Mahabodhi Mediation Centre, which runs educational institutions, had mobilised Rs22.61 crore and the Moravian Mission School Rs1.87 crore. "I do not know if the people are spending the amount they raise from abroad," says Congress lawmaker Pintoo Narbu. "This (their spending) should have been visible because we are a small place." Narbu says he has been impressed by the infrastructure that Mahabodhi has created. Most of the NGOs filing returns with the home ministry fall under the category of education, social, cultural and rural development activities. France and Germany are the main donors.
In Kashmir, J&K Yateem (Orphan) Trust, one of the oldest charities in orphan management, has mobilised Rs8.56 crore in seven years, followed by Yateem Foundation with Rs3.19 crore. Iqbal Memorial Trust, which is working in the education sector, has raised Rs7.60 crore in the past seven years. Most of Iqbal Memorial Trust's funds have come from Islamic Development Fund and Saudi charities. Prominent NGOs in Srinagar say since Kashmir has more than one lakh orphans and nearly 25,000 widows, there is big scope for them to work.
But Zahoor Ahmad Tak of J&K Yateem Trust says there are hurdles in mobilising foreign resources. "You must know, it is Kashmir," Tak said. "Because of the conflict, the government doesn't allow it (foreign aid), though things have been changing in Kashmir."
TOP