Buddhist conclave: Stage set to greet foreign delegates
by Binay Singh, TNN, Sep 20, 2014
VARANASI, India -- Prime Minister Narendra Modi's Kashi is gearing up to host foreign delegates taking part in the International Buddhist Conclave in Bodhgaya and Sarnath from September 26 to 28. After spending two days in Bodhgaya the delegates will be in Varanasi on September 28.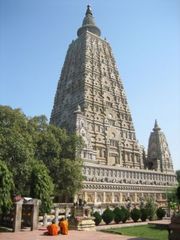 The event is being organised by the Union ministry of tourism in association with the governments of UP and Bihar to promote Buddhist heritage. Through this event, the ministry of tourism aims at devising new business strategies for marketing Indian Buddhism Heritage. To take stock of the preparations, the additional director general (tourism) Usha Sharma recently visited Sarnath. "About 130 delegates from 30-32 countries including international tour operators, opinion makers and media personalities along with people of Buddhist community, will participate in the conclave," said Ravindra Kumar Mishra, regional tourism officer.
The visiting delegates would be given a traditional welcome at Babatpur airport. A display of Buddhist articles will also be arranged to show various aspects of Buddhist culture and tradition. Mishra said the visitors would visit the ancient Buddhist sites like Dhammek Stupa, Mulaagandha Kutey Vihara, museum in Sarnath and will also visit Dashashwamedh Ghat to watch Ganga Aarti in the evening.
Mishra further said overseas guests including tour operators and media representatives will be coming from over 30 countries which are Australia, Belgium, Bhutan, Cambodia, Canada, China, France, Holland, Hungary, Indonesia, Italy, Japan, laos, Malaysia, Myanmar, New Zealand, Phillipines, Republic of Korea, Russia, Singapore, South Africa, Spain, Sri lanka, Taiwan, Thailand, UK, USA and Vietnam.
India has a rich Buddhist Heritage with several important sites here associated with the life of Lord Buddha. There are many followers of Buddhism in countries like China, Thailand, Cambodia, Japan and the religion is also becoming quite popular in America, Australia and United Kingdom.
For the promotion of Buddhist heritage and sites of the country, the Ministry of Tourism organises International Buddhist Conclaves at an interval of every two years for which international tour operators, opinion makers and media personalities as well as Indian stakeholders have been invited with the aim to encourage inbound tourism at Buddhist sites in the country. In 2012 Sarnath had hosted a three-day conclave from September 29 to October 1.
City may claim big share of tourism budget: In its first budget, the Central government allocated a substantial amount for the promotion of tourism and pilgrimage making a provision for the development of Sarnath-Gaya-Varanasi Buddhist circuit with world class tourist amenities to attract tourists from all over the world.
Since Varanasi is an important centre of culture and tourism, it might attract a significant portion of budgetary allocation of Rs 500 crore for creation of tourist circuits around specific themes. Besides, it can also claim a big share in the fund of Rs 100 crore allocated for National Mission on Pilgrimage Rejuvenation and Spiritual Augmentation Drive (PRASAD).
The strategy for integrated tourism development of the Buddhist Circuit in UP and Bihar -'Investing in the Buddhist Circuit', which was launched in July by the minister of state (independent charge) for culture and tourism Shripad Yesso Naik aims at infrastructure development, skill development, increased market access, involvement of communities and enhancing the visitors' experience.
The Buddhist circuit includes places where the Buddha actually spent time and these sites - all of which are over 2000 years old - are among the most significant and revered by the Buddhists. The Buddhist Circuit is an important pilgrimage destination for the 450 million practicing Buddhists as well as travellers interested in history, culture or religion.
According to the records of tourism ministry, the strategy will enable to mobilise additional resources for development of the Buddhist Circuit from the private sector in a sustainable manner. It aims at infrastructure development, skill development, increased market access, involvement of communities and enhancing the visitors' experience. Investing in the Buddhist Circuit strategy for development of Buddhist heritage in UP and Bihar is the result of combined initiative of the union ministry of tourism and governments of Bihar and UP, the private sector, Buddhist monasteries and sects, and the International Finance Corporation (IFC), an arm of the World Bank.
The Ministry of Tourism, Government of India, the departments of tourism of Bihar and UP and IFC have entered into an agreement to cooperate in upgrading the quality of services and goods provided for tourists along the Buddhist Circuits in the two states. Under this agreement, the signatories are designing a strategy aimed at a broader integrated Buddhist Circuit Tourism Development Project, for both Buddhist pilgrims and those wishing to experience the essence of Buddhist heritage.
Sarnath's wait to be declared World Heritage site yet to end: The Buddhist marvel in Sarnath, where Buddha preached his first sermons, is yet to be declared World Heritage.
Sarnath and Kushinagar in UP are the main Buddhist destinations, but unfortunately, none of them finds a place in the UNESCO World Heritage List, while the Mahabodhi Temple Complex at Bodhgaya in neighbouring Bihar and Buddhist Monuments at Sanchi in MP are in the UNESCO's World Heritage List.
However, the ancient Buddhist site of Sarnath had been included in the tentative list of UNESCO World Heritage in 1998 in cultural category. In the tentative list, it was submitted that the monuments in Sarnath are divided into two groups- Chaukhandi Stupa under Group 'A' and all other monuments at the sites like Stupas, monasteries, and temples under Group 'B'.
Chaukhandi Stupa is a lofty brick structure crowned with an octagonal tower. The octagonal tower is a Mughal monument built by Goverdhan, the son of Raja Todarmal in 1588 AD to commemorate the visit of Humayun to this place.
The second group, which contains remains of several stupas, monasteries and Ashoka column are built in brick and stone and datable from the 3rd century BC to 12th century AD, forms the major and important segment of the site. The Ashoka column, Dharamrajika stupa, Dhameka stupa, the remains of the temple and a series of monasteries and stupas are the most important remains of the site.
For tourism promotion
Development of Buddhist tourism:
The tourism ministry has identified three circuits to be developed as Buddhist Circuits in the country with the help of central and state governments and private stakeholders.
Circuit 1: The Dharmayatra or the Sacred Circuit - This will be a 5 to 7 days circuit and will include visits to Gaya (Bodhgaya), Varanasi (Sarnath), Kushinagar, Piparva (Kapilvastu) with a day trip to Lumbini in Nepal.
Circuit 2: Extended Dharmayatra or Extended Sacred Circuit or Retracing Buddha's Footsteps - This will be a 10 to 15 day circuit and will include visits to Bodhgaya (Nalanda, Rajgir, Barabar caves, Pragbodhi Hill, Gaya), Patna (Vaishali, Lauriya Nandangarh, Lauriya Areraj, Kesariya, Patna Museum), Varanasi (Sarnath), Kushinagar, Piparva (Kapilvastu, Shravasti, Sankisa) with a day trip to Lumbini in Nepal.
Circuit 3: Buddhist Heritage Trails (State Circuits).
i. Jammu and Kashmir - Ladakh, Srinagar (Harwan, Parihaspora) and Jammu (Ambaran).
ii. Himachal Pradesh - Dharamshala, Spiti, Kinnaur and Lahaul.
iii. Punjab - Sanghon.
iv. Haryana - Jind (Assan), Yamunanagar(Sugh).
v. Maharashtra -Aurangabad (Ajanta, Ellora, Pithalkora Caves), Pune (Karla Caves), Mumbai (Kanheri Caves), Pune (Bhaja Caves) and Nashik (Pandavleni Caves).
vi. Andhra Pradesh - Amravati, Nagarjunakonda, Vizag (Borra Caves, Salihundum Caves).
vii. Madhya Pradesh - Sanchi, Satdhara, Andher, Sonari, Murulkurd.
viii. Odisha (Dhauli, Ratnagiri, Lalitgiri, Udaygiri, Langudi, Khandagiri).
ix. Chhattisgarh - Sirpur.
x. West Bengal - Kolkata (Indian Museum)
xi. Sikkim - Rumtek, Enchay and other Monasteries.
xii. Arunachal Pradesh -Tawang and Bomdila.
(Source: Ministry of Tourism, GOI)
TOP