Stamp on Sri lankan Buddhist monk Dharmapala released
Press Trust of India, October 25, 2014
New Delhi, India -- A commemorative postage stamp on Sri Lankan Buddhist monk Anagarika Dharmapala, who is credited to have revived Buddhism in India in the 19th century, was released here today by President Pranab Mukherjee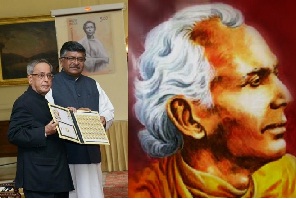 "I congratulate the Department of Posts for taking this initiative of bringing out a commemorative postage stamp on Anagarika Dharmapala.
"I hope that this gesture will contribute towards further strengthening of bilateral ties between India and Sri Lanka and bring the two nations closer," Mukherjee said on the occasion.
Law and Telecom Minister Ravi Shankar Prasad, the High Commissioner of Sri Lanka to India Sudharshan Seneviratne, Member of Parliament Meenakshi Lekhi and Foreign Secretary Sujatha Singh were among those present on the occasion.
"Dharmapala, was one of the founding contributors of Sinhalese Buddhist nationalism and was also a pioneer in the revival of Buddhism in India," Mukherjee said.
Dharmapala had represented "Southern Buddhism"--term used for Threvada at that time, at World Parliament of Religions in Chicago in 1893 where he met Swami Vivekananda and was impressed by him.
Earlier, the Sri Lankan government had released the commemorative postage stamp on 150th birth anniversary of Swami Vivekananda where the official of Sri Lankan government had shared the idea of a postage stamp on Dharmapala, recalled Prasad.
"The honour extended to Swami Vivekanand by Sri Lankan government and reciprocal gesture extended by India by honouring Srimath Anagarika Dharmapala this year shall take forward the illustrious legacy of collective wisdom and shared responsibility between India and Sri Lanka and shall continue to guide the entire Asia," Prasad said.
In 1891, Dharmapala went on a pilgrimage to the Mahabodhi Temple at Bodh Gaya, where Lord Buddha had attained enlightenment. He decided to work towards restoring it's glory.
Accordingly, the Maha Bodhi Society at Colombo was founded in 1891.
Dharmapala joined the Theosophical Society and spearheaded the reform and revival of Ceylonese Buddhism and its propagation.
He later entered the order of Buddhist monks as Venerable Sri Devamitta Dharmapala and is considered a Bodhisattva in Sri Lanka. He was ordained a bhikkhu at Sarnath in 1933 and died there in December of the same year.
TOP