Gyalwang Drukpa lends hand to Modi's cleanliness campaign
Zee News, November 3, 2014
Varanasi, India -- With Prime Minister Narendra Modi`s campaign for a cleaner India gaining ground, a Buddhist leader with a mass following here has thrown his weight behind the movement.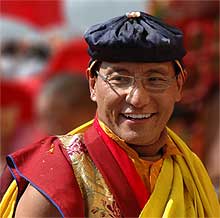 The incumbent Gyalwang Drukpa, Jigme Pema Wangchen, started his seventh "Eco Padyatra" from Modi`s parliamentary constituency Varanasi in a bid to clean the Ganges and one of the oldest cities known to man.
Wangchen, the 12th spiritual head of the Drukpa lineage of Buddhism, has been conducting annual walks since 2007 to create awareness among people to keep their surroundings clean.
This edition follows a route of approximately 800 km, starting from Varanasi in Uttar Pradesh, reaching Bodhgaya in Bihar for prayers Nov 13, followed by Rajgir (Bihar) and Kushinagar (Uttar Pradesh) and finally ending in Lumbini, the Buddha`s birthplace in Nepal. Bodhgaya is where the Buddha attained enlightenment some 2,500 years ago.
A total of 1,000 people have joined the walk.
"The idea of starting this year`s walk from Varanasi was mainly to preserve the country`s ancient heritage," Wangchen told IANS.
He commended Modi`s `Swachh Bharat Abhiyan` which was launched Oct 2, the birth anniversary of Mahatma Gandhi.
"I admire Modi`s passion for cleaning the Ganges. This initiative has led to a lot of positivity. I support his campaign. Our padyatra follows the prime minister`s footsteps," he added.
"This is the first time a leader has taken an initiative to protect the environment. Whenever any issue was about protecting the planet, everyone took a backseat."
According to the religious leader, the high point in all these seven years has been that many Himalayan villages have realised the importance of clean surroundings and made efforts to maintain cleanliness.
He said that during the fourth edition of the walk from Darjeeling to Sikkim, the team picked up more than one tonne of non-biodegradable plastic rubbish.
"The plains need to be given more importance. That was also a reason to start with Varanasi. Next year, we will probably start from Orissa," he added.
The Varanasi walk began Saturday. A cricket match and an arts and culture programme also took place to mark the occasion.
Present at the event were Uttar Pradesh Tourism Minister Om Prakash Singh, Padma Bhushan winner Hindustani classical singer Pandit Chhannulal Mishra and social activists, educationists and artists.
The Gyalwang Drukpa founded a "Live to Love" humanitarian movement in 2007. His walks are a part of this mission.
The group also seeks to provide education, environmental protection, medical services, relief aid and heritage preservation.
Wangchen was named `The Guardian of the Himalayas` by Waterkeeper Alliance, founded in 1999 by lawyer Robert F. Kennedy Jr, during the UN Week in September 2013.
TOP