Buddhist circuit at Karukonda could be a huge draw
by P. Sridhar, The Hindu, March 27, 2015
Karukonda, India -- The rich cultural heritage enshrined in the ancient Buddhist site on Karukonda hillock at Ramavaram in Kothagudem mandal has potential to give a fillip to tourism in the coal belt region.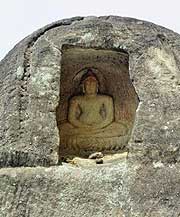 << A view of Buddhist site on Karukonda hillock in Khathagudem Mandal of Khammam District
About 6 km from Kothagudem, the Buddhist site, encompassing two Buddhist monuments, stands testimony to a hoary past.
One of the monuments is a big boulder having Buddhist sculptures in the niches on the four sides. On each cardinal side, there is a niche in which the image of Buddha is carved in full relief, seated on Padmasana (Lotus throne) in a meditative posture.
The second monument is a masterpiece of Buddhist art. It has two cells cut in a single piece of rock and the walls are sculptured with the figures of Buddha with a Chauri bearer on each side and Dwarapalakas, according to sources in the Department of Archaeology and Museums.
The historical site, a protected monument under the relevant act, remained neglected until recently.
Lack of protection has taken a toll on the Buddhist sculptures at the ancient site.
Thanks to the recent initiative of the Department of Archaeology and Museums of the Telangana government, the area surrounding the site has been fenced as part of a restoration project initiated recently.
The district is endowed with two ancient Buddhist sites – one in Nelakondapalli and another at Karukonda, remarks Radhakrishna of Kothagudem.
The Telangana government should develop a tourist circuit between the two ancient Buddhist sites, which are well-connected by road from Hyderabad, he suggests. If restored and developed fully, the site is bound to become a major tourist attraction, he affirms.
The scattered debris and weed at the Buddhist site had been removed under the initial phase of the conservation and restoration works, says B. Ramulu Naik, in-charge assistant director, Archaeology Department, Warangal.
A chain link fence had been laid around the site as part of efforts to protect the Buddhist monument at an estimated cost of Rs. 10 lakh.
TOP