I would prefer calling India as 'Buddhist India', says PM Modi
by Abdul Qadir,TNN, Sept 5, 2015
BODH GAYA, India - Prime Minister Narendra Modi on Saturday attended a Hindu-Buddhist conclave in Bodh Gaya where he prescribed conflict avoidance as the most effective conflict resolution mechanism.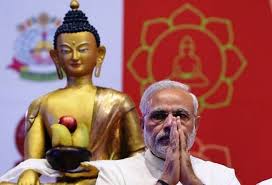 << India to develop Bodh Gaya as spiritual capital: PM Modi
The PM said that conflict situations generally arise on account of the tendency of radical elements of some religions to impose their belief on others. In his 20 minute address before a select gathering of about 100 participants from more than a dozen countries, the Prime Minister endorsed the Bodh Gaya declaration made by the organisers to work for the establishment of global peace and harmony.
Modi, who earlier offered prayers at the world famous Mahabodhi Temple, also participated in a meditation-cum-chanting session, which was held under the sacred Bodhi tree.
He later addressed the select gathering in which the Prime Minister dealt with the commonality of themes and beliefs of both Hindu and Buddhist systems. There was so much in common between Hinduism and Buddhism, he said, that he felt like calling India as 'Buddhist India'. "We also need to celebrate diversity," Modi said.
The PM referred to the coincidence of today being Lord Krishna's birth anniversary. Like Buddha, Krishna too wanted to establish a system in which the truth ultimately prevailed and evil forces get defeated, Modi said.
PM Modi also addressed the issue of environment and the need for sustainable development without destroying the originality and ethnicity of cultures. Referring to Adi Shankaracharya, the Prime Minister said that the spiritual leader is rightly regarded as 'Buddha in disguise'.
Dwelling on the essential unity of religions and commonality of the teachings of different belief systems, the PM said that the need of the hour was to project the common aspects of different religions and for that a paradigm shift in approach was required.
The Prime Minister started his speech with the statement that he felt blessed at being in Bodh Gaya, the seat of Buddha's enlightenment. Modi said that before him two Indian Prime Ministers have been to this place - Jawaharlal Nehru and Atal Bihari Vajpayee.
The PM offered all help in the development of Bodh Gaya as the most important centre of Buddhism and practical aspects of Buddhism relevant for the development of humanity as an entity irrespective of artificial divisions and sub divisions.
The conclave participants, besides diplomats and parliamentarians from several countries including Sri Lanka snd Nepal, included the Japan Foreign Minister Tsutomu Nakagawa and the Bhutan Foreign Minister LN Dorje. Bihar Governor Ram Nath Kovil and Union Minister of state for Home Kiren Rijiju were also present.
TOP