'Monks have a pivotal role in Buddhist tourism'
by T. Appala Naidu, The Hindu, September 21, 2015
Machilipatnam, India -- Dhante Dhamma Dhaja, only Telugu monk who dedicated his life to preach and spread the Buddhism in Andhra Pradesh, feels that the State government should involve the monks in promotion of Buddhist tourism. Mr. Dhaja has launched a mission to preach the Buddhism to a group of 36 children through his Vihara at Pagollu village in Krishna district since early 2010.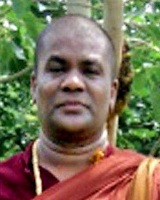 << Telugu Buddhist monk Dhante Dhamma Dhaja who lives at Pagollu in Krishna district.
Groomed by Acharya Buddha Rakitha Mahtera monk of the Bengaluru-based Mahabodhi Society for nearly 12 years, Mr. Dhaja has been actively involved in promotion of Buddhism across the State apart from preaching it to the interested children. "The State government's plan to give a fillip to Buddhist tourism in the State is a welcoming initiative. However, the government needs to realise the crucial role to be played by the monk whose presence and activities will add grandeur to the Buddhism sites," said Mr. Dhaja. The monk, who was born in Hyderabad, has added that the Buddhist tourism mission of the State government will be accomplished only when the monks were involved in promotion of the Buddhism.
"There are nearly 280 Buddhist sites in both Telangana and Andhra Pradesh and 65 of them are Stupas. Our Vihara covers majority of the Stupas by preaching Buddhism and character building to the local communities at the Stupas in and around the Krishna district," Mr. Dhaja told The Hindu .
On extending support to propagate the Buddhist tourism mission, the monk has expressed his willingness to help the State government to design the complete plan that will attract the foreign tourists, promising them the true feeling of visiting a Buddhist site. "I want to see the gloriousness of Buddhism in AP by attracting foreign tourists. Blessed with numerous sites, the State will be a prime destination for tourists who have keen interest on Buddha and his way of life," he said.
Telugu monk Dhante Dhamma Dhaja expresses willingness to help the State design a plan to attract foreign tourists
TOP