AP, Bihar to jointly promote Buddhist tourism
by P. Sujatha Varma, The Hindu, Sept 27, 2015
Andhra Pradesh, India -- Andhra Pradesh Tourism officials are in the final stages of signing an MoU with their Bihar counterparts to jointly promote Buddhist sites in the two States across the country and abroad.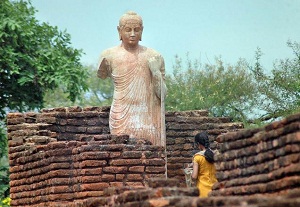 << The monolithic statue of Gautama Buddha at Nagarjunakonda in Guntur district
Photo: T. Vijaya Kumar
Principal Secretary of Tourism, AP, Neerabh Kumar Prasad, in a recent meeting with his Bihar counterpart in that State, informed that AP was now focussed on attracting Buddhist tourists from China and Japan to the world famous Buddhist sites of Amaravati and Nagarjuna Konda which are associated with Acharya Nagarjuna, the propounder of Madhyamika philosophy and propagator of Mahayana Buddhism.
Tourism Secretary, Bihar, agreed to Mr. Prasad's proposal to extend their tour packages planned as part of Buddhist circuit proposed to develop under Swadesh Darshan programme, up to Amaravati, Nagarjuna Konda and a few important Buddhist sites around Visakhapatnam.
Mr. Prasad also met heads of Buddhist temples and monasteries and explained to them the importance of Amaravati and Nagarjuna Konda and Acharya Nagarjuna's contribution in propagating Mahayana Buddhism which spread to China, Japan and other countries and the need to attract Buddhist tourists from these countries visiting Bodhgaya and other sites in Bihar to Andhra Pradesh.
Responding to his plea for suggestions, the monks and Buddhist temple managers said for a better understanding of the tourists, the AP Tourism must organise a road show to propagate its Buddhist sites during the peak season (October-November) and at the Kalachakra Mahasammelan slated for January next year at Bodhgaya.
Other suggestions include development of a short-length documentary (10-15 minutes) film on the Buddhist sites, distribution of publicity material like books, CDs, brochures, maps on Buddhist circuits, facilities available and connectivity, extending invitation to a select monks for a familiarisation tour and conduct of a seminar/conclave on AP Buddhist circuits at Kalachakra Mahasammelan and inviting delegates from China, Japan, Korea, Myanmar and other places.
Kiran Lamba, incharge of Daijokyo Buddhist temple (Japan), said they would draw Japanese Buddhists to the forthcoming Travel Meet (JATA), scheduled to take place in Japan in November this year, by writing to the authorities of Daijokyo temple in Japan, through its branch at Bodhgaya.
Mr. Prasad presented books, brochures and maps of Buddhist sites and circuits to the members present. E. Sivanagi Reddy, a Buddhist expert and CEO of
The Cultural Centre of Vijayawada, accompanied Mr. Prasad in the tour.
TOP