Nat Geo to make documentaries on 'Buddhist Circuit'
by Vinod Khanal,TNN, Sep 30, 2015
ALLAHABAD, India -- The tourism department had tied up with National Geographic to prepare a documentary featuring the famous tourists destinations of cities like Allahabad, Agra and Varanasi along with districts falling under 'Buddhist Circuit' to attract foreign tourists. The tourism department has also engaged an advertisement agency to prepare a promotional campaign for the state.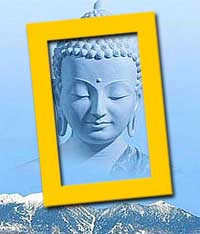 The National Geographic has also been given the task of highlighting Buddhist circle covering Kaushambi, Sarnath, Shravasti, Mahoba districts among others. The documentary would cater to the international audience while the promotional audio-video campaign is expected to draw the domestic tourists across the country. In Allahabad, the team would highlight Chandrasekhar Azad Park's significance and Akbar Fort situated on the bank of Yamuna. In the neighbouring district of Kaushambi, famous Buddhist spots would be shot. The shooting would take place in several phases starting from on October 12 and 13.
Regional tourism officer Manju Chowdhry said: "In 2014, at least 3.57 crore tourists came to the city, of which mere 1.07 lakh were foreigners and remaining domestic. We want to increase the flow of foreign tourists in the city. So, National Geographic and a Lucknow-based advertisement agency have been roped in to make the global community aware of the religious and historical importance of the city". She said, "The project is being simultaneously carried in the cities of Agra, Varanasi and places coming under Buddhist Circuit." As per data, seven places earmarked for Buddhists Circuit in the state drew 28.17 lakh tourists, of which over 14% were foreigners.
A Lucknow-based advertisement agency would be making the promotional shows for UP Tourism. "It would be aired regularly through audio and video mode so as to attract tourists from across the country. We are also trying to introduce 'tourism culture' in the city. For the time being, we welcome tourists arriving in the city through the railway station by performing aarti and garlanding them." Chowdhry added.
TOP