Buddhism deeply entrenched in Jalandhar's secular fabric, say experts at convocation
by Aparna Banerji, Tribune News Service, November 14, 2015
Jalandhar, India -- The visit of the Dalai Lama to the LPU today evoked a rich forgotten history of Jalandhar which, though profound and interesting, rarely finds mainstream mention. Both in the very immediate and farther past, Jalandhar has had deep Buddhist leanings.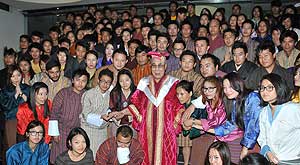 << The 14th Dalai Lama with LPU students during the fifth convocation of the university near Jalandhar on Saturday. Tribune Photo: Malkiat Singh
While a majority of the city's 5,000 to 6,000 Buddhists owe their allegiance to the movement which followed Dr BR Ambedkar's embracing of Buddhism on October 14, 1956, at Nagpur, in the subsequent years, a number of Punjabis – people who were both associated with Ambedkar or subsequently read or were influenced by him – have been veering towards the religion. However, Jalandhar's Buddhist history goes way back to the seventh century when it was termed a seat of Buddhism in the North.
Presently, a majority of Buddhist intellectuals in the city are disillusioned with the dilution of the city's Buddhist and history related with Ambedkar with the politics over its Dalit aspects.
Ambedkar and status quo
Lahori Ram Bali (86) who, along with 5,000 people embraced Buddhism at Chak Hakim village in Phagwara in 1963, and was a colleague of Nanak Chand Rattu and scholar Diwan Chand Ahir, famous Punjabi-Buddhist contemporaries of Ambedkar, says, "The present system is blind to the ideals of Dr BR Ambedkar. Jalandhar hosted one the first four Budhist conferences wherein Buddhist scripture was documented. It is a known Buddhist centre of ancient times which supplied bells to Buddhist temples across the country. The movement lead by Dr Ambedkar brought a revival of Budhism which continues in present times and saw many Punjabis at its forefront. Various foreign universities celebrate his valiant furtherance of human rights and equality. But these aspects neither make it to Indian politics or mainstream talk about Ambedkar."
A founder trustee of Ambedkar Bhawan in Jalandhar, where Dr Ambedkar addressed in 1961, Lahori has also been a key part of the efforts to acquire Ambedkar's house in London.
Professor GC Kaul, retired Punjabi professor of DAV College, Jalandhar, who is currently chairman of the Ambedkar Bhawan Trust, Jalandhar, and an avowed Buddhist, said, "Whether people remember it or not, Buddhism is deeply entrenched n Jalandhar's secular fabric. The ancient Buddhist leanings of the people of the region slowly waned as Advativaad came into being. Beginning with the late seventh century and subsequent years, Buddhism slowly saw a decline. But with Dr Ambedkar's conversion to Buddhism in 1956, it saw a revival both in Punjab and in Jalandhar."
However, expressing discontentment with the status quo, he says, "Undoubtedly, politics has had a great role to play in the propagation of ideals of Ambedkar. However, Buddhists, especially scholars, are not satisfied with the projection of Dr Ambedkar as only a Dalit face. He was also a Buddhist, scholar, a proponent of equal rights for humans, both in the caste and gender contexts. But presently a number of people who claims to follow him are not aware of the delicate spectrum of ideologies that he was a proponent of. Somewhere, in the present day, party politics in the name of Dalits has caused ideals to take a back seat."
Jalandhar, a historic Buddhist hub
In terms of Jalandhar's history, it is said the fourth Buddhist conference took place in Jalandhar – at that time a Buddhist hub - in 78 AD. One of the first four Buddhist conferences was held a Jalandhar and the city (then a kingdom) also finds a notable mention in the works of Chinese explorer Hiuen Tsang who visited the city in the seventh century and documented the city as having a presence of at least 2,000 Buddhist monks and 50 Buddhist viharas in it.
TOP