Himalayan art, culture on display at Buddhist festival
Deccan Herald, Dec 2, 2015
Bengaluru, India -- Eighth edition of the Buddhist festival organised by the Ministry of Culture kickstarted in the City on Tuesday with an array of cultural activities at the Jnana Jyothi auditorium on the Central College premises.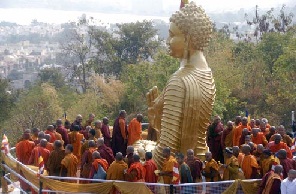 << Monks offer prayers to a statue of the Buddha during the Buddhist festival celebrations at the Jnana Jyothi Auditorium in the City on Tuesday. KPN
Held in coordination with the Central Institute of Himalayan Culture Studies (CIHCS) and the Maha Bodhi Society, the four-day festival was inaugurated by Secretary, Karnataka Buddha Maha Sabha, Mahabali Shankar.
Artists from the Central Institute of Buddhist Studies, Leh-Ladakh, and Jammu and Kashmir displayed Thangka paintings on the occasion. They said Thangka painting is a medium through which Buddhist philosophy is explained.
Along with the painting exhibition, there were a host of other programmes such as the Lama dance, Bhikku chanting, Dharma talks, butter sculptures and sand mandala – created with wood, precious jewels, rice and flowers. There were stalls selling books, and food stalls served many Himalayan delicacies.
"This is the first time that we are holding the Buddhist festival in South India. It was earlier held at places such as Thailand, Vietnam and Uttar Pradesh, India, among others. We have participants from Nagaland, Jammu and Kashmir, Uttar Pradesh, Arunachal Pradesh and Bihar.
There will be cultural activities between 6.30 pm to 8.30 pm on all the four days. We are expecting a total crowd of more than 5,000 people and 1,000 people participated on Tuesday," said a CIHCS management official.
The festival starts at 10 am and closes at 8.30 pm and entry is free.
TOP