Buddhist centre to give vocational and spiritual training to locals in Kopargaon
by Bella Jaisinghani, TNN, Jan 8, 2016
Mumbai, India -- An institute for Buddhist studies headquartered in Mumbai launched a centre for spiritual practice in rural Maharashtra Thursday.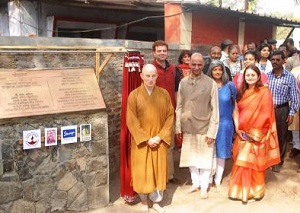 The K J Somaiya Centre for Buddhist Studies announced Jetavan, a non-sectarian centre for holistic development at Sakarwadi, Kopargaon. According to Buddhist tradition, Jetavan at Savatthi was one of the most famous Buddhist monasteries or 'vihars' in India. It was the second 'vihar' donated to Gautam Buddha after Veluvan in Rajgir. It was here that the Buddha delivered most of his teachings and discourses. It is said that after the Migaramatupasada, a second 'vihar' close to Savatthi came into being, the Buddha would live alternately in both, spending the day in one and the night in the other.
Somaiya's Jetavan is designed by Sameep Padora and Associates, an architectural firm from Mumbai. With the mandate of not harming a single tree, the site was split into six buildings, each situated in gaps between the heavy forestry. Two courtyards emerged as links between them.
The complex was built by artisans from Hunnarshala Foundation from Bhuj in collaboration with local construction teams. It is constructed using natural and waste materials in order to reduce the carbon footprint to the barest minimum possible. The construction materials represent several innovations such as the use of quarry dust and fly ash (which is waste from the factory) to build the walls.
Sixteen tonnes of old, used wood from the ship-breaking yard at Alang, Gujarat, was used for the roof under-structure over which mud-rolls have been placed. Old, used Mangalore tiles were then placed on top. The mud-rolls will ensure comfort in terms of temperature in the interiors. The roof is inverted so that light comes in at an angle from the top and those inside the building can only see treetops and the sky outside.
Jetavan hopes to combine spirituality with physical wellness as well as vocational training to help local youth cultivate livelihood skills and become financially independent. It will have a large hall for meditation and religious ceremonies. Buddhist Centre faculty and students will conduct courses in the Pali language as well as introductory courses in Buddhism. Faculty and students from K J Somaiya Bharatiya Sanskriti Peetham and the K J Somaiya Centre for Studies in Jainism will read texts and conduct discussion and debate. Somaiya Vidyavihar will train locals in carpentry and impart tips on hygiene and healthcare.
Samir Somaiya, president of Somaiya Vidyavihar said, "Jetavan is our way of giving back to society. We are responding to the twin needs of Sakarwadi, spiritual guidance and economic well-being."
This project is inspired by Ven. Dhammadipa, a Buddhist monk from the Czech Republic and has been built in partnership Godavari Biorefineries Ltd, the flagship company of the Somaiya group. Ven. Dhammadipa conducted the inauguration ceremony. He said Jetavan was the result of the kindness and generosity of people from India, China, Taiwan, Spain, USA, Germany and the Czech Republic. The monk promised to travel to Sakarwadi "once every couple of years" to guide meditation and deliver teachings from Buddhist texts.
TOP