Dalai Lama tells Tibetan school prefects to contribute to peaceful century
By Tenzin Dharpo, Phayul, April 18, 2016
DHARAMSHALA, India -- The Tibetan leader His Holiness the Dalai Lama advised a group of school prefects from Tibetan schools in India and Nepal to take the onus to change the new century for a more peaceful and compassionate existence.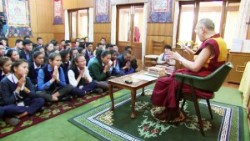 "You are all representatives of your schools, so you have the responsibility to pass on the unique Tibetan traditions in the 21st century and also into the 22nd century. That is your duty. Our aim is to educate the 70 million human beings whether believer or non-believer into contributing to a compassionate humanity. If that happens, then the 21st century will eventually become a century of compassion, of dialogue, of non-violence. And that can be done by Tibetans alone." said the Nobel laureate at a private audience for the school children on April 16 here.
The Tibetan leader lamented that the indiscriminate killing of thousands of people is passed on as regular occurrence.
The soon to be 81 year old also expounded the relativity and the importance of the Tibetan Buddhism studies which he referred to as the "wealth of the Tibetan people".
"Although politically Tibet has had to go through a tremendous loss, the Tibetan tradition, its language and Buddhist studies have held us together. And nowadays the learned intellectuals from the entire world are increasingly showing interest so we must preserve the unique culture since it has the potential to contribute to the whole humanity in a positive way," said the Dalai Lama.
Replying to a query from a student on the need for a purely Tibetan Dalai Lama reincarnation in the future, the Tibetan leader said, "If you look back in history, one of the Dalai Lama was a Mongolian but the reincarnation issue is to be discussed with the leaders of various sects of Tibetan Buddhism as I have mentioned years back. But we must acknowledge that the furtherance of Buddhism is not dependent on my reincarnation, Gonpo Ludup (Ancient Indian Buddhist master) and Buddha himself did not have any reincarnations but their teachings have lived on through practices and studies."
The prefects and faculty delegation from 19 places like Paonta, Dholanji, Ladakh, Selakui, Mussoorie and Nepal are in Dharamshala on a leadership workshop organized by the Central Tibetan Administration's Department of Education. The delegation earlier met with the Tibetan PM and the Speaker of the Tibetan parliament.
TOP