Buddhist monk wants alcohol ban in Andhra Pradesh
The Hindu, May 18, 2016
Vijayawada, Andhra Pradesh (India) -- The Andhra Pradesh government need to implement complete ban on alcohol in the State on lines of the Bihar government, said Buddhist Monk Ven. Dhammadhaja Bhikku of the Saddhama Dipika Trust here on Tuesday.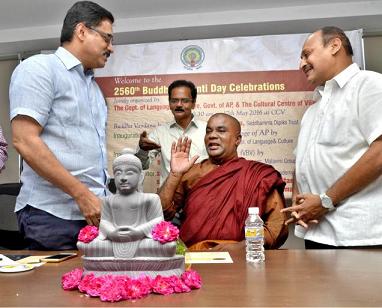 << CCV founder and chairman of Malaxmi group Y. Harish Chandra Prasad launching 'Buddha Vihara' as per Buddhist tradition in the presence of monk Ven. Dammadhaja Bhikku, in Vijayawada on Tuesday. —PHOTO: V. RAJU
Ven. Dhammadhaja was addressing the gathering at the inauguration of Vijayawada Buddha Vihar as part of week-long celebrations of the 2,560thBuddha Jayanti, which falls on May 21, jointly organised by the Department of Language and Culture of State and Cultural Centre of Vijayawada (CCV).
Founder of CCV and chairman of Malaxmi group Y. Harish Chandra Prasad inaugurated the exhibition of Buddhist Heritage of AP and also launched the Buddha Vihar which will be headed by Golla Narayana Rao.
Ven. Dhammadhaja said that the government is just looking for money but a large number of people are affected due to alcohol in the State. "AP needs ban of alcohol and it will bring lot of changes in society. We will raise this issue with the Chief Minister. Practising meditation is need of the hour to revive well-being among the citizens," Ven. Dhammadhaja added.
"Man has developed only through materialistic prosperity and no human values," he said.
Mr. Harish Chandra Prasad called upon people to observe Buddhism for a week. "Andhra Pradesh was totally influenced by Buddhism. If we can adopt that again we will be able to conquer anti-social elements and issues in our society", he said
Mr. Harish Chandra Prasad announced that CCV would be digitising the Buddhist Heritage and relics across the State as part of the Digital India initiative.
VBC secretary Sudhakar Medasani, Treasurer Ravela Chaitanya were among those present.
TOP