Searching for Dalits: A yatra (procession) by Buddhist monks taking BJP to Dalits across UP
The Indian Express, Jul 30, 2016
Ahead of Uttar Pradesh polls, a yatra (Sanskrit: 'journey', 'procession') by Buddhist monks across the state is perhaps the party's biggest Dalit outreach at a time when it battles a backlash

New Delhi, India -- The Dhamma Chetna Yatra is on its way to Mathura. Suddenly, the first car of the convoy stops near Raya town. Former local BJP MLA Ajay Kumar Poiya steps down, signals the convoy to stop, and approaches a Buddhist monk in the car behind. "There's an Ambedkar statue here. Let's garland it," Poiya says. Some 40 monks come out, pay tributes to the Dalit leader. Just three minutes, and the yatra moves on.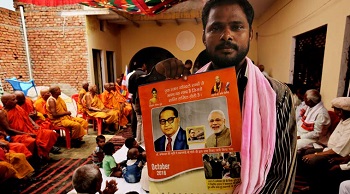 << A follower with a calendar containing photos of Buddha, Ambedkar and Modi at a village in Uttar Pardesh (Source: Express photo by Praveen Khanna)
It is not a planned stopover, but there's no taking chances with B R Ambedkar's statues. These monks have either garlanded or inaugurated some 800 statues of Ambedkar and Buddha in the last three months, since the yatra began on April 24. It's only the half-way mark.
On another afternoon, at 'Shriji Lodge' in Hathras, several BJP leaders are in a huddle. Their concern is that "unless every potential MLA candidate brings at least one bus each", they won't be able to get enough people for a rally in Agra on July 31. BJP president Amit Shah was to join the yatra that day, but cancelled his visit just two days earlier. The official reason was the change of venue due to waterlogging. However, party sources admit there was fear that Shah would face protests from Dalits.
The BJP has spent the past fortnight trying to contain the damage caused due to attacks on Dalits in Gujarat, and remarks by a senior Uttar Pradesh party leader against BSP chief Mayawati. With the attacks coming in the wake of other measures seen as anti-Dalit by BJP governments, its rivals have spotted a chink in the party armour ahead of the crucial battle for UP.
Now, the anger has started washing up against what is easily the BJP's biggest Dalit outreach programme. The cancellation of Shah's Agra visit followed last Sunday's protests by Dalits at rallies of the Dhamma Chetna Yatra in Aligarh, Hathras and Mathura, when local BJP leaders were chased away.
The six-month-long yatra's stated aim is to cover all the 403 constituencies of Uttar Pradesh, spreading the message of Buddha and Ambedkar among Dalits. Led by monks, it bears the name of the All India Bhikshu Sangh. But the BJP's fingerprints are all over.
At the lodge strategising for the yatra are the BJP's National OBC Morcha President S P Singh Baghel; a minister in the Rajnath Singh-led government in UP (2000-2002), Rambabu Harit; and former secretary of the BJP's state SC Morcha, Ramveer Singh. The yatra was flagged off by Rajnath in Sarnath, was to be addressed by Shah in Agra, and is scheduled to end in Prime Minister Narendra Modi's presence in Lucknow on October 14.
"The programme was finalised after the Dharma Gurus consulted the PM. This yatra is sending the message among Dalits that while all other parties merely pay lip-service to Dalits, only the BJP works for Dalits and respects Babasaheb Ambedkar," says Harit, also a Dalit.
The yatra's coordinator, Shil Rakshit, has just returned from a quick visit to Delhi, where he met BJP leaders and visited Shah's office. Rakshit admits they have "concerns". "Dayashankarji (BJP UP vice-president Dayashankar Singh, who was removed after his remarks against Mayawati), made some statements. We want to ask the party chief about his views on this," he says.
On July 24, monks of other factions had driven away local BJP leaders in Aligarh from a meeting after Dalits and Jatavs present there protested against "atrocities under BJP governments".
However, for now, that has not dented the enthusiasm of this convoy, with at least 40 monks part of it at any given time. The convoy has 10 Innovas, a luxury bus, a truck with LED screens, besides the rath that L K Advani used during his Ram Janmabhoomi Yatra that catapulted the BJP to the centerstage in the 1990s.
Modi's photograph adorns all the vehicles, including the rath. He also features on calendars of the Bhikshu Sangh, distributed by the monks in Dalit bastis, along with Ambedkar and Buddha. As the yatra halts at basti after basti and at Buddh Vihars (Buddhist temples), the triumvirate that is being projected is clear.
The 87-year-old monk leading the yatra, Mahasthavir Dhamma Viriyo, has been an RJD Rajya Sabha MP and was once acknowledged as their guru by BSP bigwigs Kanshi Ram and Mayawati.
At the Buddha Vihars, Viriyo sometimes donates a TV set, which is used to play a video with Modi's message. The TV itself is generally given to Viriyo by a BJP leader the night before.
Only a few of the monks plan to be with the yatra all through, others join and leave midway. They rest for the night at accommodations arranged by local BJP leaders. The food is also arranged by district BJP leaders, who give the monks "dakshina" (at least Rs 100) after every meal. All the vehicles have come from Delhi, say the drivers.
At every halt, existing statues of Ambedkar and Buddha are garlanded, or new ones inaugurated. When the monks deliver short addresses to Dalits, chants of "Modi, Modi" ring out. The pamphlets distributed at the rallies have details of the projects the PM has undertaken to "restore the legacy of Ambedkar".
The meetings attract a few thousand people every day. The BJP estimates they would have interacted with nearly 40-50 lakh people, almost all of them Dalits, by the end of the campaign.
The monks don't deny the BJP's close links to the yatra, including in organising and guiding it. "Modiji is the first Prime Minister who has focused on Ambedkar. We are now spreading the word about what Modiji has done for Ambedkar and Buddhism," says Sthavir Panditanand, among the most prominent monks in the yatra.
"
Koi mai ka lal hai jo kahe ki wo Modi ko PM nahin maanta
(Is there anyone who dares say that he or she doesn't accept Modi as PM)?" thunders Panditanand, at a rally in Hathras. "Some people are encashing the cheque of Ambedkar. Only the PM is capable of addressing your problems. He is working for your Ambedkar mission. If you don't embrace him, imagine what will happen to your Ambedkar, and what will happen to your nationality."
Says a smiling Rambabu Harit, "Mayawati thinks she has patented Ambedkar. It's not the case."
By the BJP's own estimates, Uttar Pradesh has at least 50,000 SC votes in almost each of its 403 constituencies, with the figure going up to lakhs in many seats, making up over 22 per cent of the total voters in the state. Over 60 per cent of the SCs are Jatavs, the sub-caste of Mayawati. Together with Muslims and Yadavs, SCs constitute around 50 per cent of the electorate.
In the 2014 Lok Sabha elections, when it won 73 of the 80 seats in UP with ally Apna Dal, the BJP had managed to secure 43 per cent of the votes. But at that time too, without winning a single seat, the BSP had got nearly 20 per cent of the votes, and the Samajwadi Party 22 per cent of the votes.
The BJP also knows that given how the vote share is split in UP, where a party can win an Assembly seat with just around 60,000 votes, slight differences in vote percentage can mean a lot. In the 2012 Assembly polls, the SP had secured 226 seats at 29 per cent votes, while Mayawati with 26 per cent votes could get only 80 seats. The BJP was a distant third with 15 per cent votes and 47 seats.
The BJP fears that the Modi magic won't work this time. Muslim votes are out of the question while Yadavs are expected to stick with the SP. Hence, the BJP feels, its only hope to increase its vote share lies in Mayawati's support base.
"You cannot win the election without creating a dent in Mayawati's votes," says BJP Agra MP and former Union minister of state, HRD, Ramshankar Katheria. Himself an SC, he is trying to emerge as a counter leader to Mayawati.
It's obvious why Katheria fancies his chances. With all its talk of Dalit upliftment, the BJP doesn't have any major Dalit leader in UP, let alone a Jatav. Katheria himself lost his Cabinet berth in the recent reshuffle.
"It will cause discontent among my supporters," he states openly.
The yatra is an idea tried before by the BJP. Ahead of the 2013 Assembly elections in Chhattisgarh, the party had backed a platoon of Dalit priests, who toured SC-dominated seats in helicopters funded by the party. The BJP had eventually won nine of the 10 reserved constituencies in the state.
BJP leaders say the idea to have a yatra led by monks had been brewing for a while, with several meetings held with them. During an event to mark the 125th birth anniversary of Ambedkar at his birthplace in Mhow on April 14, Narendra Modi felicitated the All India Bhikshu Sangh's Sanghnayak, Dhamma Viriyo. Shil Rakshit was also present. Ten days later, the Bhikshu Sangh yatra was off the ground, flagged off by Rajnath Singh from Sarnath.
The programme was evolved after discussions between BJP leaders and monks, with the halts decided months in advance.
The initiative has full RSS blessing. Former Sangh pracharak from Azamgarh Jai Prakash Singh has been overseeing the yatra since Sarnath, and will be monitoring it till it ends in Lucknow. "I am the Dhamma Sevak of this Yatra," Singh beams.
Among those who addressed the Hathras rally were veteran RSS pracharak Rakesh Jain, also the organising secretary of the Sangh's Seva Bharti and a former organising secretary of the BJP in UP. Jain mentioned the projects the RSS has taken up for downtrodden communities.
The bills of the yatra are also being handled by BJP district leaders. At Hathras, former BJP SC Morcha leader Ramveer is in-charge of all the arrangements. In Mathura, Poiya holds the responsibility. Harit, who is overseeing the yatra in Brij Kshetra, pays the fuel bills. Their names are printed on the pamphlets as coordinators.
Some leaders have gifted mobile phones to some monks.
The BSP calls them fake monks, and their chief, Dhamma Viriyo, an "RSS agent". "Gumrah Chetna Yatra", dismisses Hathras BSP president Dinesh Kumar Deshmukh. "The BJP knows that it cannot get Dalit votes. It needs some plank to enter into Dalit colonies. Now they have purchased some fake Buddhist monks," he says.
Harish Chand Arya, a Dalit shopkeeper in Hathras, is caustic. "To gain some Dalit votes, Modiji ne UP mein 300 bhante chore hue hain (Modi has let loose 300 bhantes in UP)," he says, using the term the yatra monks use for themselves.
The BSP has also been trying hard to scuttle the show, protesting against the yatra and showing black flags at Aligarh, Hathras and Mathura. They have tried blocking the convoy, painted walls with slogans saying "RSS agent Dhamma Viriyo murdabad", and at times nearly entered into scuffles with accompanying BJP supporters.
After one such incident in Hathras, the rattled monks ensured they got themselves some security. Around 10 policemen are now assigned to them.
The yatra is also drawing criticism from the Bhikhu Sangh, which has distanced itself from the programme, terming it an "insult to Buddha and to Buddhism". Bhikhu Sangh president Sadanand says "the yatra was discussed at our meeting on March 27, and we unanimously decided that we will not take part in any programme supported by any political party".
"I don't know why Viriyo began this. Dharma Gurus are for the entire mankind, not any political party," he adds.
The Bhikhu Sangh general secretary, Pragya Deep, notes that the yatra "hardly has any prominent monks", and includes those "with little knowledge of Buddhism". "They have not taken any permission from us. Almost every Bikhu of the Sangh is against Viriyo. He always had political interests," he claims.
Drawing upon the life of Gautam Buddha, Sadanand says he was invited by various kingdoms of his time — Magadh, Licchavi, Vaishali. "But Buddha never sought their embrace."
Former RSS pracharak Jay Prakash Singh, who is overseeing the yatra, says this criticism is misplaced. "These Dharma Gurus are not our bonded labourers. They are doing what they feel is right." Pointing to the Dhamma Viriyo's former links with the BSP, he adds, "If Mayawati's men oppose him, they insult her."
The monks at the yatra can't be bothered by such criticism.
They address each other as "Bhante", and claim to be followers of Theravada, a major sect of Buddhism that believes in the final goal of Nirvana — the release from the circle of life and death.
But save just about half-a-dozen of the 40, all of them are a 'shramner', the first stage of monk-hood when all a novice has is 'chivar (robes)'. After 10 years of being a shramner, one becomes an 'upasampada', the stage when one decides to remain a monk forever. After another 10 years of being upasampada, one becomes a 'sthavir'. There are few sthavirs in the yatra.
Of the novices too, a majority are in their sixties or older, who have come from small towns in Bihar and UP. They admit they led impoverished lives until someone suggested that taking up maroon robes would lend them some comfort in their old age. Nag Bhante, Upali Bhante and Shil Dhari are all from Bihar. They were Shiv Muni, Baichain Singh and Ramdhari, till they learnt a few years ago that the life of a monk in Gaya would be a better option.
What does Nirvana mean for them? One monk stares blankly.
"Budhe ho rahe the. Do-char saal bache the. Dokri rahi nahin, yahan aa gaye (I was getting old. Had just a few years left. Wife had also died, so I came here)," says a monk, quietly taking a stroll in the damp garden of the Hathras lodge.
They understand little about the yatra too, though they are pleased with the "extreme respect" they are suddenly receiving at this stage of their life. Not to forget all that dakshina after every meal.
Even the drivers of their vehicles, Jats from Haryana and Delhi, are careful to accord that respect. They carry the luggage of the monks, take care of their basic needs, and don't smoke before them.
"My parents always asked me to do puja, but I never did. I never thought I would spend six months in the company of bhantes," a driver in his 20s says.
The handful of sthavirs among the monks are part of the organising team, and are mostly seen with BJP men. They almost always talk about Modi, and some have him as their WhatsApp display photograph.
Shanti Mitra, among the senior-most sthavirs, sees no contradiction in this. "Ho sakta hai Modi ka ek panth do kaaj ho (It's possible Modi is trying to kill two birds with one stone). He might get some votes, but religion also gets spread. Modi wants to make India Dharma Guru."
Shil Rakshit, the coordinator of the yatra who also goes by the nickname 'Rocky', dismisses the danger of Dalit anger. "The same men who opposed us in Aligarh were also in Hathras. It shows the entire protest is politically motivated," he says.
In a direct attack on Mayawati, Rakshit questions her insistence on the use of the word Dalit for SCs. "Dalit is an offensive word, a cuss word. We are Buddhists. Those who follow Babasaheb can never be Dalits. When Babasaheb adopted Buddhism, he ceased to be a Dalit," says the monk. "Those who call themselves Dalits are actually not followers of Ambedkar."
BJP leaders admit all this is not enough to ensure that the community votes for them, especially in the wake of the Dalit protests against the party. But as a BJP leader says, "If by spending Rs 1 crore per district in UP, we are able to send the message that the BJP is not anti- but pro-Dalits, our work is done."
He goes on, "Kharcha, parcha, charcha (money, newspapers, publicity), that's what politics is all about. For six months, you are in the news. What more do you want?"
Much more, going by what the Jatavs across villages say. Still staunch Mayawati voters, they see a real opportunity for the BSP to come back to power.
"The BJP is coming to the BSP areas for votes. I don't know who among us will vote for them," says 18-year-old Sachin Kumar, who watches from a distance as the yatra halts for a garlanding ceremony near his home in Mahavan, Mathura.
Others note that even within the BJP, when it comes to the yatra, the caste divide is clear. Few upper caste, even OBC leaders of the party are present at the yatra. It's mostly the BJP's SC morcha and its Dalit leaders who are organising the show. "It shows where we stand in the party," concedes a Jatav BJP leader.
The irony is visible at a Hathras event, when a person at the stage urges the wife of Ramveer Singh to offer flowers to monks. "Panditain aaiye (The wife of a Brahmin, come) ," he calls out to Prabha Singh, using a Brahminical term for even a powerful Jatav woman.
At other times, the message is even more meek. In Suraja Kalan village of Aligarh, some monks recite Pali texts before a group of Dalits. With blank faces, village women, smoking bidis, try to make some sense of the mantras blaring out from loudspeakers in a language that was spoken several centuries before Christ.
Nirmala Devi finally decides it's not worth her time. "They have just come to seek votes," she shrugs.
The Dalit vote
50,000
SC votes in almost each of UP's 403 constituencies, BJP estimates
>> SCs make up 22% of voters
>> Over 60% of SCs are Jatavs, the sub-caste of Mayawati
>> Together with Muslims and Yadavs, SCs constitute around 50% of the electorate
>> In 2014 LS, BJP got 43% of votes in UP; Maya retained 20% vote. BJP got 73 seats with ally Apna Dal, Maya got none.
>> BJP feels has little chance with Muslims, Yadavs; can only hope to lure Dalits
The Yatra
>> Began on April 24 from Sarnath; to end on October 14 in Lucknow, the day B R Ambedkar took Diksha and the day Ashoka is believed to have converted to Buddhism
>> Around 40 monks are part of yatra at any given time
>> Rajnath Singh flagged off the yatra, Modi will join the concluding ceremony
>> The yatra, which has travelled nearly 8,000 km already, is to cover every constituency of UP. At present, it is in its second phase (June 10- August 19), covering Awadh, Brij, Western UP, Kanpur
>> A few thousand attend yatra rallies daily; BJP expects to get in touch with 40-50 lakh people by the end of the yatra
BJP woos Dalits…
>> On 125th birth anniversary of Ambedkar, Panchjanya and Organiser brought out special issues; PM Modi held a major rally at his birthplace in Mhow
>> Mhow is being converted into a major tourist spot
>> The bungalow Ambedkar lived in in London is being developed as 'Shiksha Bhoomi'. BJP pamphlets at the Dhamma Chetna Yatra talk about this bungalow where "Dalit students will be given free facilities"
>> The place in Nagpur where Ambedkar took Diksha in 1956 is to become 'Diksha Bhoomi'
>> Modi laid the foundation stone to make Ambedkar's home in Delhi 'Mahaparinirvan Bhoomi'
>> In Mumbai, where Ambedkar's last rites were performed, will see a 'Chaitya Bhoomi'
>> BJP units have been told to celebrate birthday of Ambedkar
>> At places associated with Buddha, BJP is celebrating "Panch Tirtha"
>> In May, Amit Shah took dip at Simhastha Kumbh with some Dalit sadhus; had to shift away from main ghat after protests
>> In June, he had dinner with OBCs and Dalits at a village in Varanasi
…but fights controversies
>> RSS chief Mohan Bhagwat's remarks that reservation policy be reviewed is believed to have been a major cause that led to BJP's Bihar defeat
>> BJP was slow to respond to Rohith Vemula suicide in Hyderabad. It first tried to prove he was not a Dalit
>> After Dalits were beaten up by gau rakshaks for skinning a cow in Gujarat, BJP failed to address the unrest for days
>> Party UP vice-president Dayashankar Singh compared Mayawati to a prostitute
TOP