Ladakh has suffered years of neglect: Buddhist monk
IANS, August 31, 2016
Leh, Ladakh (India) -- Ladakh region in Jammu And Kashmirhas suffered from years of neglect from the central government and ministers from Delhi "come and make sweet promises only to forget" (sic), a top Buddhist monk has said.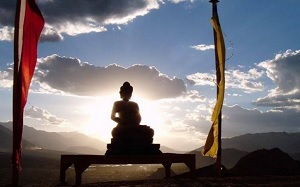 Bhikkhu Sanghasena, founder and spiritual director of Mahabodhi International Meditation Centre, made the remarks here on Tuesday evening in the presence of Union Minister for Science and Technology Harsh Vardhan.
"I really want central ministers of India to do something for Ladakh. Every time events are held here, ministers come and speak sweet, sweet things and make promises. However they end up doing nothing for Ladakh," Sanghasena said.
Citing poor air traffic network for Ladakh, Sanghasena said the government should prioritise good and cheaper connectivity for the strategic region that shares a border with China and Pakistan.
"People in Ladakh are not economically empowered. Mostly the tickets from Delhito Ladakh and from here to Delhi are so high that it becomes difficult for us to afford (to travel). We do not have train and proper transport services. The only means to connect to rest of the world is aerial route. But their charges are so high," he said.
Flights to Ladakh -- a major tourist destination in India -- operate from Delhi and Srinagar. And tickets any time of the year may cost between Rs 8,000 and 20,000 or even more during peak tourist season of July to September.
The meditation guru was speaking at a function where some 20 faith leaders of different religions took a pledge to convince people on proper sanitation and hygiene practices.
Sanghasena, one of religious leaders to take the oath, urged the union minister to convey his greetings to Prime Minister Narendra Modi.
The minister was in Ladakh to attend a two-day summit on government initiatives aimed at changing the mindset of people of Ladakh to adopt proper sanitation and hygiene.
The summit was organised by the Global Interfaith WASH Alliance (GIWA) in association with UNICEF India. WASH stands for Water, Sanitation and Hygeine campaign.
TOP