'Buddhism relevant in today's era'
by Amarnath Tewary, The Hindu, March 19, 2017
Patna, India -- At Nalanda conclave, President Mukherjee says no part of the world is free from scourge of violence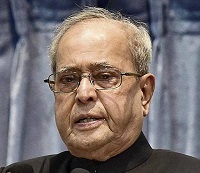 Addressing the closing ceremony of a three-day International Buddhist Conclave in Rajgir in Nalanda, President Pranab Mukherjee on Sunday said the philosophy of Buddhism is as relevant today as ever in the era of violence, "especially as the world grapples with the complex problems that seem intractable".
Bihar Chief Minister Nitish Kumar and Governor Ram Nath Kovind too addressed the conclave, organised by the Nava Nalanda Mahavihara.
The conclave on "Buddhism in the 21st Century — perspectives and responses to Global Challenges and Crises" was attended by hundreds of Buddhist scholars, monks and delegates from 35 countries, with a special address by the Dalai Lama on Saturday.
"No part of the world today is free from the scourge of violence...this crisis is all pervasive," the President said, underscoring that "Buddhism has had a deep influence on human civilization."
Stating that "Nalanda reflects our ancient educational system which attracted mighty minds in the form of students and teachers in ancient India," the President said, "Education means the development of the mind and requires an atmosphere which is conducive to free exchange of ideas."
Mr Mukherjee urged the delegates to "redouble their efforts to promote the simple Truths and the Path of the Buddha that show we can be better citizens and contribute to making our land a better place to live in".
The President also expressed happiness that the Nava Nalanda Mahavihara, a deemed University, has recently published the entire Pali Tripitaka (texts or words of the Buddha) in 41 volumes in Devanagari script. He further congratulated the University for opening the first ever Department of Buddhist Sciences in the world.
Chief Minister Nitish Kumar too highlighted the tenets of Buddhism and said they were relevant in today's world of violence and distrust. Mr Kumar also proposed to open a "Conflict Resolution Centre" at Rajgir.
Earlier on Saturday, the Dalai Lama visited the Nava Nalanda Mahavihara after a gap of 60 years and planted a sapling of the Bodhi Tree. He inaugurated the Nagajurna Faculty Building and Santarakshita Hostel. Mentioning the tradition of Nalanda, his Holiness said Dignaga and Dharmakriti's contribution have been unforgettable for the world.
TOP