Buddha Purnima 2017 in India: Date, significance and celebration of Gautama Buddha's birth anniversary
India.com, May 8, 2017
Here is all you should know about Buddha Purnima 2017 date, significance and celebration in India.

New Delhi, India -- Buddha Purnima 2017 is just round the corner. India, being the land of the origin of Buddhism, holds Buddha Purnima as an extremely significant day.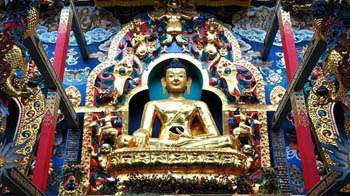 Also known as Vesak or Buddha Jayanti, Buddha Purnima celebrates the birth, enlightenment and death of Gautama Buddha. While the exact date of birth and death of Gautama Buddha are not known, a conference of the World Fellowship of Buddhists held in Sri Lanka in May 1950 fixed the day of the full moon in May as the day of Buddha Purnima. Buddha Purnima 2017 is on May 10.
According to most historians, Buddha's lived between 563-483 B.C. Lumbini in Nepal is considered as his birth place and he is believed to have died at the age of 80 in Kushinagar.
Government offices, banks and post offices remain closed on Buddha Purnima. The four important Buddhist pilgrim sites in India – Bodh Gaya, Kushinagar, Lumbini and Sarnath – are the best places to witness Buddha Purnima celebrations. Bodh Gaya, in particular, is an extremely important site associated with the life of Gautama Buddha. He is believed to have obtained enlightenment here. Sarnath is where Buddha is believed to have given his first sermon.
Monks give talks and recite ancient verses on the day of Buddha Purnima with a large nuber of Buddhists in attendance. Buddha statues are placed in a basin filled with water and decorated with flowers.
Visitors to the temple pour water over the statue to pay their respects. The act is also said to symbolize a pure and new beginning. Buddha Purnima is also a day when Buddhists reflect upon the teachings of Gautama Buddha.
They may wear white robes and only eat vegetarian food on and around the day of Vesak. Several devotees offer money, food and clothes to the poor. Some buy caged animals and birds and set them free to display care for all living creatures as per one of the most prominent teachings of Buddha.
TOP