Tibetan nuns find time for education in an Indian exile
By Diana Reynolds Roome, San Francisco Chronicle, January 14, 2007
Namgyal, India -- If anything good can come out of oppression and loss, I may have just witnessed it in Dharamsala. This steep, sprawling town in the Himalayan foothills of northern India is home to thousands of exiled Tibetans -- including the Dalai Lama, who lives at Namgyal, a yellow and red monastery perched on the crest of a hill and surrounded by prayer flags. I stayed in a Tibetan Buddhist nunnery at the lower edge of town, and witnessed a transformation of lives that was not just visible but palpable.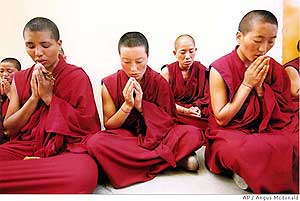 << Tibetan nuns in Dharamsala pray Sept. 12, 2001, for the victims of terrorist attacks in the United States one day earlier. Associated Press file photo by Angus Mcdonald
Some 220 nuns -- called ani in Tibetan -- live at Dolma Ling, which was inaugurated a little more than a year ago by the Dalai Lama. It took 14 years to be completed, after long years of fundraising, planning and building -- which the nuns themselves helped to do, hauling stones and sand to save money on construction. Now the gracious white and maroon buildings, with simple cloisters, courtyards, and a temple (gompa), provide a home for nuns from age 14 to 80, many of whom have escaped oppression and destruction of their nunneries in Tibet.
Before finding this sanctuary, some had been imprisoned and tortured for peacefully demonstrating against the Chinese communist regime in Tibet, refusing to denounce the Dalai Lama, or even for owning pictures of His Holiness.
One nun, Jangchup Dolma, in her mid-30s, struggled to describe in English how she and her travel companions were attacked as they tried to come over the border. "We walked on foot one and a half months. We walked at night, sometimes there was no moon, it was very dark and we didn't see any way. Our tsampa (barley meal) ran out and we had to beg for food in a small village. Sometimes there was heavy rain and some people seemed almost unconscious." When they got close to the Nepal border, they were chased down by Chinese border guards. Monks traveling with them tried to stop the trucks, but one was shot dead and seven were injured.
Such violent incidents still happen. The 17-year-old nun who was killed by guards near Mount Everest last year was planning to study at Dolma Ling. Yet Tibetans still flock over the borders into India and Nepal -- traveling over the frigid Himalayan passes on foot or by yak to escape a foreign occupation that has destroyed their way of life and marginalized most of them in their own country.
Now safe and secure, though in many cases separated from their families, the nuns, in maroon robes and with shaven heads, follow busy schedules.
What makes Dolma Ling unusual is that it's not only a religious community, but also an institute of learning. Up at 5 a.m., the nuns attend puja (prayer session) with rhythmic chanting in the gompa under a magnificent wall-painting of the Green Tara, the female emanation of the Buddha of compassion. After that, until the 6:30 p.m. puja, they don't have much time for meditation because they have a full slate of classes, including English, Tibetan language and sometimes literature, arithmetic and computer skills. This is part of a 13-year educational program that they do in addition to carrying out more practical duties such as cooking, cleaning, milking the nunnery cows, or making handicrafts to sell -- prayer beads, embroidered gifts, and decorations in the form of vajras or dharma wheels (Buddhist symbols).
For many, education is something new. Upon arriving in Dharamsala, 99 percent of them could neither read nor write. Few nuns in Tibet receive any education, and they are often illiterate because prayer is their life, and many come from families of nomads and yak herders whose culture is invested in oral tradition rather than book learning. Monks, by contrast, have always studied Buddhist philosophy and maintained libraries, according to their monastery's lineage or tradition.
What is even more unusual about Dolma Ling is that nuns here study theological debate, or jangkunju, an essential component for learning and growing more comfortable with the complexities of Tibetan Buddhism.
This activity is empowering -- something that became evident as I watched the nuns practicing their skills in the spacious courtyards, stamping and clapping their hands to emphasize obscure points of Tibetan Buddhist philosophy. Delek-La, a lively young ani, challenged her teacher (a monk) about where the true self resides. (Her lama, or personal teacher, she explained, was serving a prison term in Tibet.) All the nuns were preparing for exams, in which they had to engage in rigorous argument on points of Buddhist doctrine, raising their voices and challenging an opponent.
Until recently, only monks have practiced this form of debate, but nuns are now proving themselves well able to take on many of the same academic challenges. Nine have already graduated with the second highest degrees in the Nyingma tradition, and a few are studying for the highest, Geshe degree -- though there are still obstacles both to this, and to full female ordination. With the Dalai Lama's full support, a major effort is now underway to remove the technical obstacles and ingrained traditions that have so far prevented women from reaching these goals.
Life in exile has brought many Tibetans to the realization that, while maintaining traditions is an enormously important challenge, learning to connect with the modern world is also vital to the survival of the culture.
"We really want them to empower themselves," said Rinchen Khando Choegyal, founding director of the Tibetan Nuns' Project. Choegyal -- the wife of the Dalai Lama's youngest brother, minister of education for the Tibetan government in exile for almost 10 years and the first president of the Tibetan's Women's Association -- is dedicated to seeing women, whether religious or not, gain independence.
But, Rinchen Khando added, even these advances do not make up for the painful fact of being expelled from their country. "We must not forget that we are Tibetans in exile -- if I was given the choice, I would have done this in Tibet."
TOP