Pioneer of Buddhist Revival Movement in South India
by Lakshman JAYAWARDANE, Lanka Daily News, Sept 17, 2007
Colombo, Sri Lanka -- The origin of Buddhism in South India can be traced to Asoka's Dharma Vijaya in the 3rd century B.C. Asoka's rock edicts II and XIII enumerated the provinces of his own territory as well as abroad where he sent Buddhist missionaries.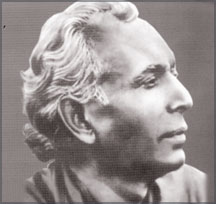 << Angarika Dharmapala
These two contain accounts about his mission to Tamil Nadu and Sri Lanka. A golden age of Buddhism from the 2nd to the 7 century AD can be pictured from the Tamil classical works of Buddhist teachers of this period. Kanchipuram and Kaveripattinam were famous centres of Buddhism in Tamil Nadu. Until the 14th century AD Buddhism was flourishing in South India.
With the spread of Jainism and Hinduism in the South, Buddhism began to decline. Until the 16th century some Buddhists stayed on at Nagapattinam. But even at this time, the city of Nagapattina, was a flourishing centre of Buddhism.
The Buddhists who remained in the South were gradually converted and became Hindus, Buddhism flourished for at least thousand years.
As a matter of fact Buddhism was not destroyed in India. But it was absorbed by Hinduism. According to statistics collected in 1981 only 735 people said they are Buddhists. But now things have changed due to the Buddhist Revival Movement in the South.
The 19th century saw a revival of interest in Buddhism in South India. The Buddhist revival movement in North India and South India began almost around the same time. The revival movement had its impact on scholarly work as well as socio political movements in South India.
Renaissance Commenced
The renaissance of Buddhism commenced in India, when British civil servants started bringing to high as monuments scattered all over the sub-continent. A number of rock-edicts and pillar inscriptions of Asoka were discovered in various parts of India commencing from 1750.
Alongside of these archaeological discoveries, studies on Buddhism Buddhology by scholars in India and abroad made great strides. Buddhist associations and societies were founded which engaged in revival activities by publishing Buddhism texts, editing journals and running schools.
The most important event in the history of the revival was the formation of the Maha Bodhi Society by Anagarika Dharmapala in 1891.
Dharmapala in Adyar
Dharmaduta Angarika Dharmapala devoted more than 40 years of his life of 69, to dharmaduta work in India. In December 1884 he set foot on Indian soil in the company of Madam Blaratsky and Col. Olcott. Dharmapala was twenty years old. They came to headquarters of the Theosophical Society in Adyar, Madras. Thus the foundation for his great career for dharmaduta activities was laid in the sacred soil of Adyar in Tamil Nadu.
Anagarika Dharmapala started the Maha Bodhi society on the 31st of May 1891 under the name of Buddhagaya Maha Bodhi Society, which for brevity's sake became known as the Maha Bodhi Society. At that time he received an invitation from Madras asking him to make a visit.
This invitation came from none other than Col. Olcott.
He accepted the invitation and came to Madras and attended the meeting which took place on 8th August 1898 at Royapettah in Madras. The Meeting was convened by Col. Olcott and Dr. Ayotheethos, a Buddhist leader living in Madras. This relationship started growing further.
A year later he received another invitation to come down to Madras to open a branch of the Maha Bodhi Society in South India. Thus on Sept. 17 1899 on his 35th birthday he arrived in Madras.
On the September 28 the Madras branch of the Maha Bodhi Society was inaugurated in the presence of a large gathering.
At this meeting a resolution was moved by M. Singaravelu Chetti to form a branch of the Maha Bodhi Society at Madras and thus the new branch came to existence. This is the first branch of Maha Bodhi Society.
The new branch was very active. Later Anagarika Dharmapala built a small Vihara in Perambur. The Maha Bodi Society office was also there.
Perambur Vihara of the Society was established with Rs. 3,000 sent by Dharmapala out of the funds donated by Mrs. Foster. Ven. Nilwakke Somananada Thera was the President of this new Vihara. It was Dharmapala who encouraged Somananda Thera to learn Tamil and brought him to South India to propagate Dhamma.
Ven. Nilwakke Somananda Thera is the first Buddhist monk from Sri Lanka to come and propagate Dhamma in Tamil Nadu. He was a great dharmaduta and a Buddhist scholar. He translated Dhammapada to Tamil.
It is regarded as the first translation of the Dhammapada to Tamil. He translated some other Buddhist books and another many pamphlets in Tamil. These books and pamphlets were published by Perambur Vihara. Within a short period Perambur Vihara became a very active Buddhist centre in Tamil Nadu.
Just after starting the Vihara Vesak was celebrated for the first time in South India. It is regarded as the "The very first attempt to propagate Buddhism in South India". This historical event was the celebration of the 2443 Anniversary of Parinirvana of Lord Buddha.
A Tamil booklet on the "Life and Teaching of Bhagavan Buddha" was released on this historic day 2000 copies of its second edition were printed later indicting the great demand it caused after its release. An ancient Sanskrit work on caste system by Great Indian Scholar Asvagohosa was translated into Tamil and published by the Mahabodhi Society of Madras.
Active member of the Mahabodhi Society Prof. P. Lakshmi Narasu who became a Buddhist founded the Madras Buddhist Association Prof. Narasu wrote a book "The Essence of Buddhism" with an introduction by Dharmapala in 1907. The book became very popular and influenced South Indian intellectuals. The third edition of this book was published in 1948 with a preface by Dr. Ambedkar.
---------
The writer is Counsellor (Information) in the Deputy High Commission of Sri Lanka in Chennai.