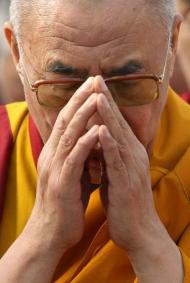 << Exiled Tibetan spiritual leader the Dalai Lama, who was scheduled to visit Arunachal Pradesh in November to inaugurate a multi-specialty hospital in Twang, has postponed his visit following an order from the External affairs ministry.
Due to non availability of clearance from ministry of external affairs office, the Dalai Lama has decided to postponed the proposed tour for next year.
Dalai Lama had planned his visit to Tawang from November 10 till 15, following invitation from the Arunachal Pradesh government and the local Buddhist community. Arunachal Pradesh chief minister Dorjee Khandu had visited Dharamshala recently to extend an invitation for inaugurating a multi-specialty hospital in Twang, constructed at an estimated cost of rupees four crore. Dalai Lama had donated Rs 20 lakh for the construction of the multi- specialty hospital when he had visited the area in 2003.
Khandu during his visit to Dharamshala had expressed his fear that the external affairs ministry may not give permission to Dalai Lama to visit Twang. Khandu is a Bhuddhist and belongs to the powerful gelugpa sect of Tibetan Buddhism, headed by the Dalai Lama.
Khandu was accompanied by Twang MLA Tshering Dhondup and Bharatiya Janata Party (BJP) Lok Sabha Member Kiren Ritju , who is the coordinator of the All Party Parliamentary forum for Tibet. Notwithstanding the apprehension of Arunachal CM, Dalai Lama's office had planned a week-long visit to areas of Arunachal Pardesh next month.
According to the schedule fixed by the office of the Dalai Lama , the tour of the Tibetan leader was to commence from the second week of November. Dalai Lama was scheduled to visit Itanagar, Bomdilla and Twang . Dalai lama's office had received information from the chief minister 's office that the construction of the hospital at Twang has been completed and was ready for inauguration .
Significance was being attached to the Dalai Lama's possible tour to Twang since the spiritual leader, after the failed uprising against the Chinese, had taken the Twang route to flee to India in 1959 . Secondly, during the 1962 war, Chinese army had captured Twang and came to Bomdilla .
The red army later withdrew. China has been claiming Arunachal Pradesh, including Twang, birthplace of the sixth Dalai Lama, as its territory but India rejected the claim and asserted that the state was an integral part of its territory. The officials at directorate of ministry of external affairs in Dharamshala denied that Dalai Lama's tour had been cancelled following government orders.
"Our office has nothing to do with Dalai Lama 's visit ," said an official at the MEA liaison office, located in the vicinity of the Dalai Lama's private office.
The tour has been postponed for spring season next year, Tenzine Takhala, Dalai Lama's personal aid, said while refusing any detail or reason for differing tour programme.