Dharamsala welcomes Dalai Lama after high-profile US visit
By Phurbu Thinley, Phayul, February 27, 2010
Dharamsala, India -- Hundreds and hundreds of Tibetans and well-wishers holding traditional ceremonial scarves and burning incense welcomed His Holiness the Dalai Lama as he returned to his exile hometown here this morning, following a high-profile visit to United States.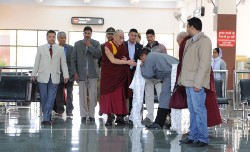 << His Holiness the Dalai Lama is being greeted at the Gaggal Airport, in Dharamsala, India, Saturday, February 27, 2010. The Tibetan leader arrived to his exile hometown in North India following a high-profile visit to US, where he met with the President Barack Obama in the White House. (Photo by Tenzin Choejor/OHHDL)
The 74-year old exiled Tibetan leader arrived from the Indian capital, New Delhi, fresh from his 10-day U.S. visit. The Dalai Lama left Dharamsala, his exile seat in the northern India, on Feb 16.
The Nobel Peace Laureate appeared cheerful and constantly waved and smiled at endless queue of well-wishers who had lined up to welcome him in McLeod Ganj, in Upper Dharamsala, where his official residence is located. Many of them waited for hours before His Holiness finally arrived here.
His Holiness was received at the Gaggal Airport, which is an hour drive from McLeod Ganj, by senior leaders, including Prime Minister Prof. Samdhong Rinpoche, and officials of the Tibetan Government-in-Exile, and heads of major Tibetan non-governmental organisations.
In McLeod Ganj, Buddhist prayers flags and Tibetan National flag were put up and auspicious Buddhist symbols were drawn along the road leading to His Holiness' residence to welcome him. Welcome gates, decked up in colourful traditional Tibetan style with auspicious greetings, and banners welcoming the Tibetan leader were also put up at different points.
During the visit to U.S., despite China's repeated and angry protests, President Barack Obama welcomed the Dalai Lama to the White House. Secretary of State Hillary Clinton and Congress Speaker Nancy Pelosi also met His Holiness during the visit.
Not only this, one day after the meeting with Obama the National Endowment for Democracy, which is funded by the US Congress, gave the Dalai Lama its prestigious Democracy Service Medal during a ceremony at the Library of Congress in Washington, DC, that left China all the more fuming.
Tibetans revere the Dalai Lama as their undisputed leader and a symbol of hope of their freedom in the world. The Dalai Lama normally spends several months a year travelling the world promoting human values, teaching Buddhism and, advocating for Tibetan rights and their struggle for greater freedom.
Tibetans, whose spirits were somehow dampened by recent failure in talks with China on the future of their homeland, have been heartened by their leader's latest successful visit to US.
Talks with Beijing, which resumed last month after a break of more than a year, once again failed to make any breakthrough, with Tibetan side blaming Chinese Communist leadership for lack of any "political will" to resolve the Tibet issue peacefully.
For Tibetans, Obama's meeting with the Dalai Lama in the White House ignoring China's protests was a symbolic victory, irrespective of its consequences or the manner in which the meeting took place.
The US honouring even sparked celebrations by Tibetans inside Tibet amid increased security set up and severe restrictions on religious practice in parts of Tibet. In some areas, Tibetans reportedly welcomed the meeting with a defiant show of fireworks and auspicious prayer rituals.
China had reacted angrily on the Obama-Dalai Lama meeting by accusing the US of "seriously undermining" bilateral ties by "conniving" with separatist forces.
The Tibetan leader enjoys widespread support in the United States and Obama already postponed the meeting with Dalai Lama once, angering powerful U.S. lawmakers and human rights groups.
Every U.S. president for the last two decades has met with the Dalai Lama, and those visits are considered by Tibetans powerful signs of the American commitment to Tibet issue and human rights in general.
Obama used his first presidential meeting with the Dalai Lama on Feb 18 to press China to preserve Tibetan identity and to respect human rights in the region, which has been under brutal Chinese occupation since 1950.
Dalai Lama has said he had met with the President because "it was my duty to inform or report what the situation was in the relationship with the Chinese government."
While in US, Dalai Lama also urged Americans to keep pushing for freedom and democracy in other lands.
In 2007, when the Dalai Lama was presented with the U.S. Congressional Gold Medal by the U.S. President George W Bush, it had lead to unprecedented celebrations of victory by Tibetans and their supporters around the world.
At the time also a grand and imposing ceremonial welcome marked the Dalai Lama's arrival here in Dharamsala after he returned receiving the Congressional Gold Medal.
TOP