Tibetan Communities Across World Pray for Victims of Kyigudo Earthquake
Tibet Custom, May 8 2010
Dharamshala, India -- The Diaspora Tibetan communities based in different parts of the world on Monday (4 May) conducted special prayer sessions to observe the customary third week of the death of those people since the deadly earthquake that struck Tibet's Kyigudo region on April 14.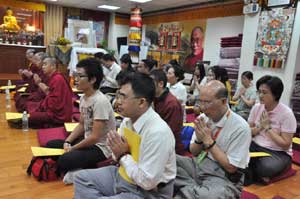 << Tibetans and Taiwanese gathered in Taipei to offer special prayers on the third week since the tragedy that claimed thousands of lives and rendered many thousands homeless in Tibet's Kyigudo region on April 14, 2010
The simultaneous prayer service began with a minute's silence at 7:49 am (local time) in the respective Tibetan communities under the direction of the Kashag.
The Tibet Religious Foundation of His Holiness the Dalai Lama based in Taipei organised a mass prayer services in Taipei and Taoyoun city on May 4, 2010 for the victims of Kyigudo earthquake. Venerable Jangtse Choeje Rinpoche led the prayer at Foundation's prayer hall along with other 50 Tibetan monks from different Tibetan Buddhist centers in Taipei. The staff members of His Holiness' foundation and Tibetans from Taipei city also joined the prayer. Another prayer service was organised at Chenrey-sig Tibetan Buddhist Center located in Taoyoun. Four Tibetan Monks and the Tibetans residing in Taoyoun city and county joined the prayer service.
In Tokyo, around sixty Japanese and Tibetan offered prayers at Joenji, a Buddhist Temple in Shinjuku.
Mr. Lhakpa Tshoko, Representative of His Holiness the Dalai Lama for Japan and East Asia, gave a briefing on the earthquake tragedy and general situation in Tibet. He said the prayer session is not only for people perished in Kyigudo earthquake disaster but also to sincerely pray so that such natural disaster doesn't occur again in any part of the world. Tibetan prayer leaflets, such as Dolma [in praise of Tara], Mani (root mantra), Guru prayers and Ways of Boddhisattavas [Choe-jug] with Japanese transliteration were made available for the participants. Both Tibetans and Japanese recited the sacred texts for two hours at the Japanese Temple. In his closing remark, Mr. Lhakpa Tshoko thanked the participants and for their continued support for Tibetan cause. He requested them to join again for the 4th week prayer session [dun-tsik shi-pa] to be conducted shortly.
The Tibetan people residing in Choejor, Gyalphak and Jokhel settlements in Nepal gathered at their respective localities to offer prayers for the quake victims in Tibet.

In Switzerland, a two-hour prayer congregation from 7 - 8 am was presided over by the abbot and other monastic officials at Rikon Choekhor Monastery located in Zurich. Around 200 Tibetans attended the service. Mr. Sonam Phuntsok, member of Tibetan Parliament-in-Exile from Europe, Mr. Kelsang Gyaltsen, Envoy of His Holiness the Dalai Lama and and Mr. Tseten Samdup, Representative of His Holiness the Dalai Lama, were present.
Special prayer services were also held in groups and by individuals across Italy. Around 28 Tibetans from Milan, Monza and Bergamo joined in Gepheling in Milan to offer prayers for those dead and speedy recovery of those injured and homeless in the tragedy in Kyigudo. The prayer service was led by Venerable Tenzin Khenrab Rinpoche, Tibetans in Italy. Eleven Tibetans who reside in Pomaia gathered for special prayer service led by Ven. Geshe Tenzin Temphel.
The Office of Tibet based in Pretoria, South Africa, organised a two-hour special prayer service at a Buddhist Institution in Johannesburg. Around 30 South African supporters of Tibet joined staff members of the Office of Tibet to pray for the victims of Kyigudo earthquake in Tibet. The service began with a minute's silence followed a prayer recitation.
His Holiness the Dalai Lama presided over the prayer congregation held at Tsuglagkhang in Dharamshala.
TOP