Dalai Lama attends founding anniversary of Buddhist School in Jammu
TibetNet, June 7, 2010
Kashmir, India -- His Holiness the Dalai Lama this morning presided over the 15th founding anniversary of the Himalayan Buddhist Cultural School in Gulabgarh, located 62 km from Kishtwar district in Jammu and Kashmir.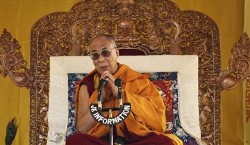 << Tibetan spiritual leader the Dalai Lama addresses at a public gathering in Gulabgarh, about 310 kilometers (192 miles) from Jammu, India, Saturday, June 5, 2010. The Dalai Lama is on a two day visit here. (AP Photo/Channi Anand)
Chief Minister of Jammu & Kashmir, Mr. Omar Abdullah attended the ceremony with His Holiness the Dalai Lama at the invitation of the Himalayan Buddhist Cultural Association.
Around 18,000 people, including local Himalayan Buddhists, Hindus and Muslims, accorded grand welcome to His Holiness on his first-ever visit to the region.
Lauding inter-religious harmony in Indian and its millennia old non-violent ideals, His Holiness emphasised the importance of maintaining peace and harmony among different faiths in the community.
His Holiness the Dalai Lama encouraged the students to enhance their interest in studying Buddha's teachings and their commentaries contained in Kagyur and Tengyur which are well preserved by the Tibetan people.
All the religious faiths have a common aim to mitigate negative human emotions and to instil positive qualities of love and compassion, His Holiness said. " So I respect all religious traditions even though I am a Buddhist," he added.
Describing the region as a very beautiful place with green forest and snow-capped mountains around it, His Holiness said the people living in the region should be not only physically graceful but also beautiful from inside.
His Holiness told the youngsters of the region to take more interest in studying their ancestral tradition and religion.
His Holiness expressed his happiness in meeting with Mr Omar Abdullah as he recounted his close relation for His Holiness with his father and Dr. Farooq Abdullah and grandfather Sheikh Mohammad Abdullah.
Mr Omar Abdullah said he also felt very happy to meet His Holiness the Dalai Lama for the second time. He expressed hope that people in the region will embrace His Holiness the Dalai Lama's positive qualities.
Groups of schoolchildren and local youths presented traditional songs and dances.
His Holiness led prayers for global peace.
His Holiness is conferring long-life initiation to the people this afternoon and will participate in an interfaith dialogue on Sunday morning.
TOP