Dalai Lama reiterates hope in middle way
By Kalsang Rinchen, Phayul, July 18, 2010
Dharamsala, India -- His Holiness the Dalai Lama assured that his middle way approach for Tibet will bear result one day saying the movement will continue even after his passing away.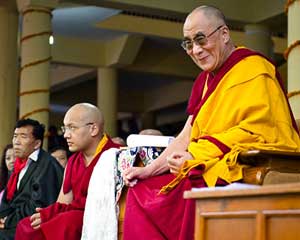 << His Holiness the Dalai Lama at the official celebration of his 75th birthday, July 6, 2010. Sitting on his right is the 17th Gyalwang Karmapa. Photo:Tenzin Chojor/OHHDL
Speaking to Bernama, Malaysian national news agency, here at his residence, the Tibetan leader said, "Thinking is changing, great possibility our middle approach will come true. But very gradually, very slowly, If I remain alive for the next 10 to 15 years, I can see, if I die tomorrow, I can't see the change."
"Tibetan is not an issue of Dalai Lama institution, it's about the well-being of six million Tibetan people and their rights.
"So long as these rights do not materialise, then this movement will remain, whether I am alive or not. Important is Buddhism and Tibetan culture, not the institution of Dalai Lama," he said.
The Tibetan leader who turned 75 this month reiterated his government's quest for a genuine autonomy for all Tibetan people saying he was not seeking independence or separation from China. "You know, I have my mantra, we are not seeking independence, and the Chinese have their own mantra, Tibet is part of China."
China accuses the Dalai Lama of inciting separatism in Tibet and blamed him for the 2008 protests across Tibet calling him "a wolf in monk's robes". The Tibetan leader denied the allegations and called for an independent investigation into his office files and his past speeches.
Beijing accuses the Tibetan leader, who won the 1989 Nobel Peace Prize of trying to "split the motherland" and calls him a "separatist," an allegation the Tibetan leader however denies saying he seeks a genuine autonomy for Tibet consisting of the three traditional provinces of Tibet.
Talks between Dalai Lama's envoys and Beijing resumed in January 2010 after it had come to a standstill with the "Memorandum on Genuine Autonomy for the Tibetan People" submitted by the Tibetan side at the eighth round of talks facing derision from China which called it a demand for 'half-independence' and 'disguised independence' or 'covert independence'."
Tibetan side, however, maintains that the articles of the proposed memorandum were prepared in accordance with the provisions of the Constitution of the PRC and its laws on National Regional Autonomy, and claims China has rejected the proposal without providing any "legal and rational explanations".
TOP