His Holiness the Dalai Lama Visits Historic Yarma Gonbo Monastery
Tibet Custom, July 26 2010
Nubra, Ladakh (India) -- With the arrival of His Holiness the Dalai Lama at the remote Buddhist hamlet at Yarma Gonbo Monastery located about 65 km from Samtenling Monastery in Ladakh's Nubra Valley on last Friday, the long-held wishes of the people living in the region to meet their spiritual leader were finally fulfilled.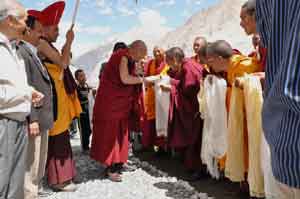 << His Holiness the Dalai Lama being welcomed by Chogon Rinpoche and Abbot of Yarma Gonbo Monastery in
Nubra valley, Ladakh, on 23 July 2010/Photos by Tibetonline TV
His Holiness the Dalai Lama inaugurated and consecrated a Phodrang (palace of His Holiness) newly built by the residents.
Over 7,000 Buddhist devotees received the oral transmission of The Diamond Sutra (dorje chotpa) from His Holiness the Dalai Lama at the monastery.
This is His Holiness the Dalai Lama's first-ever visit to Yarma Gonbo Monastery, which is considered one the most important religious and historical artifacts of Ladakh. The monastery was build by spiritual sons of Gyalwa Gotsangpa to provide shelter to visiting pilgrims and conduct daily religious rituals.
Gotsangpa, one of the most important yogi in Drukpa lineage of Ladakh, formally charted the route for circumambulation of Mount Kailash for the later pilgrims. He meditated in various places, performed many miracles and left his foot-print, hand-print and also the imprint of his forehead in the rocks of caves where he had meditated.
Before his arrival at Yarma Gonbo Monastery, His Holiness the Dalai Lama expressed his happiness and gratitude to devotees at Samtenling Monastery during a farewell ceremony attended by hundreds of people from monastic and lay community.
I am very happy and much satisfied to meet with local people for teachings during my three day stay here, His Holiness said in his address. Similarly, both the monastic and lay communities have done a commendable work in initiating and taking interest in the study and debate on Buddhist teachings, he added. His Holiness said since sky is not the limit local people should continue their with religious study and practice.
TOP