Time short for Ladakh flood victims as winter looms
By Beatrice Le Bohec, AFP, Aug 16, 2010
LEH, India -- Winters come harsh and early in India's Himalayan region of Ladakh, where the waning summer spells more hardship for thousands left homeless by devastating flash floods.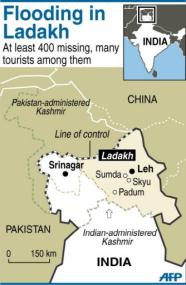 << Though part of mainly Muslim Kashmir, the high-altitude region of Ladakh is overwhelmingly Buddhist
In Ladakh's main city, Leh, around 800 families lost everything in the torrent of mud and water that invaded their homes 10 days ago and killed nearly 190 people.
Though part of mainly Muslim Kashmir, the high-altitude region of Ladakh is overwhelmingly Buddhist. A 20-year Muslim insurgency against Indian rule has had only an indirect impact on the area, an adventure playground popular with foreign trekkers.
The desire to help those who have been left destitute has in any case crossed religious lines.
Outside Leh's main mosque Abdul Salam dropped 200 rupees (four dollars) -- his daily wage as a driver -- into a collection box to raise funds for people facing a long winter without proper shelter.
"In five days, we've collected 500,000 rupees, including 30,000 during Friday prayers alone," said Nissar Ahmad, a volunteer with the local Muslim community association.
"We've distributed food, including 50 kilos (110 pounds) of rice, and some clothing. It's Ramadan and people feel obliged to help others," Ahmad said.
The Leh Muslim association has set up a stand in the city centre where volunteers were working in shifts Sunday making little gift packs of sweets sent by well-wishers in New Delhi for the estimated 2,000 children affected by the floods.
Near to the mosque, a Buddhist temple had also put out a collection box with a sign reading: "Please Help Us."
"With the money we collected we've managed to hand out rice, cooking oil and clothing," said P.T. Kunzang, secretary general of the Ladakh Buddhist Association.
The Buddhist association had also put up a notice board with press clippings and photographs from the domestic and international media coverage of the disaster that struck the region on August 5.
The board drew a large crowd of locals, including one woman in traditional Ladakhi dress, who stood in front of the clippings with her eyes closed and her hands joined in prayer.
"The main priority is sorting out the displaced people because time is limited," said Kunzang. "Winter is coming and in one month it will already be cold. This is the government's responsibility."
The Indian Red Cross has had a large role, not least in providing drinking water, but also in providing telephones to allow migrant workers and even tourists to contact their families back home.
In one particularly devastated district of Leh, families eat in silence under a sheet of tarpaulin which has been their shelter for the past 10 days.
More than 40 people in the district were swept away along with their houses by the floods, leaving nothing but some scattered clothing stuck to protruding coils of metal wire.
"They should be able to stay there until the end of the month, but after that it depends on the weather," said policeman Punchok Angchok.
Ladakh is a place of extreme temperatures, and in winter the mercury can fall as low as minus 30 degrees Celsius (minus 22 degrees Fahrenheit) and the region is effectively closed to anything but air access.
In his office, Leh's deputy mayor T. Angchok acknowledged that the "main task" was finding proper shelter for families left homeless.
The authorities have already distributed 700 tents and 5,000 blankets.
A request for federal aid has been made to New Delhi, and Prime Minister Manmohan Singh is due to visit the affected region on Tuesday.
In his annual independence day address in New Delhi on Sunday, Singh said he grieved for the "many precious lives" lost in Ladakh and pledged the government would do "everything possible" for those whose lives had been ruined.
TOP