Kalon Tripa Inaugurates Prayer Halls at Sera Jey Monastery School
Tibet Custom, August 25 2010
Bylakuppe, India -- After inaugurating two newly built prayer halls of the Tibetan Secondary School at Sera Jey Monastery, Kalon Tripa Prof Samdong Rinpoche said "the school must include courses on Buddhist treatises in its curriculum".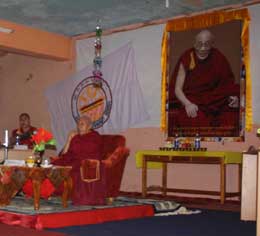 << Kalon Tripa addressing monk students after inaugurating the school's prayer halls at Sera Jey Monastery in Bylakuppe in South India, on 24 August 2010/Photos by Jigme Tsering/Tibetonline TV
"In addition to courses on social studies and science, there must be facilities for the students to study key texts of Buddhist studies," Kalon Tripa told a gathering of over 700 consisting mainly of monastic officials, faculty members and students.
"In Tibet, children in your same age group do not get the opportunity for proper education. Even if some of the children do have access to education, they are taught only modern subjects through Chinese language as the medium of instruction and denied any opportunity to study Buddhist philosophy," Kalon Tripa told students at the function. "Therefore, the students studying here should not squander their opportunity. Moreover, the study Buddhist philosophy through listening, thinking and meditating could not be put into practice without a thorough learning of its practical and theoretical aspects," he added.
There was a question and answer session following Kalon Tripa's address.
Earlier the function began with the inauguration of a statue of Buddha and portrait of His Holiness the Dalai Lama in the prayer hall. Khen Rinpoche Acharya Geshe Lobsang Palden gave the welcome address.
The school has 40 faculty members and 630 students. It is the first school administered by a monastery under the recognition of the Central Tibetan Schools Administration. The school takes part in the CBSE class 10 board examination.
Sera Jey Monastery is one of the three main monastic institutes of Gelug (Lama Tsong Khapa) tradition founded in early 15th century in Tibet .
It was reestablished at Bylakuppe in South India in 1970, following the occupation of Tibet by the People's Republic of China and destruction of monasteries and persecution of monks.
It is recognised to be one of the largest monastic institutes and learning center of traditional Tibetan Mahayana Buddhism in exile. It has a total of 3800 monks, out of which 2700 are undergoing monastic courses and the remaining 550 novice monks are learning basic Buddhist studies.
TOP