Malaysians scale Himalayas to help Ladakh flood victims
Bernama, August 31, 2010
LEH, Ladakh (India) -- It was total self-sacrifice by several Malaysians who scaled the rugged Himalayan mountains to bring cheer to traumatised families and children in the remote Ladakh area, distressed by a recent cloudburst.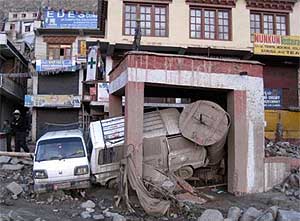 << Damaged vehicles and prayer wheel at Leh.
The six-member team from Kuala Lumpur fended off altitude illness, mountain chill and risked they own safety to reach Leh, Ladakh's capital, cradled at an altitude of 3,524m, just to share their compassion in the hour of need.
Lanterns for the kids, foodstuff, torch lights and cash collected from Malaysian well-wishers, as well as Malaysians residing in India, were distributed to the Ladakhis, many still stranded without decent homes and clothing after the devastating flash floods.
"We are trying to get sponsors for 14 orphans, aged between six and 14, as they have lost everything. Our fund-raising campaign in Malaysia will continue because a lot of restoration works in the fields need to be done," team leader Charlie Chia Lui Meng said.
During the August 6 midnight cloud burst tragedy – never experienced in the last 100 years in Ladakh – according to elders, 215 people lost their lives and over 70 are reported missing.
The gushing waters from the mountains destroyed at least 1,000 homes and schools, and injured nearly 600 people, as many were asleep when the natural calamity struck.
Families and children are still languishing in make-shift tents on hilly areas, after losing their belongings.
"We have distributed basic rations (food packets) to 19 families in Choglamsar village, one of the worst-hit places, and are also trying to get a JCB (excavator) to help them clear the mud on the fields so that villagers could return to farming quickly.
"We need to work fast as winter is approaching in about two months' time," said Chia, who is linked to the Buddhist Gem Fellowship in Petaling Jaya.
The Malaysian Desk Ladakh in Petaling Jaya is collecting funds for the victims.
Ladakh, a popular tourist destination, is located in the state of Jammu and Kashmir.
Related story: Time short for Ladakh flood victims as winter looms
http://www.buddhistchannel.tv/index.php?id=42,9436,0,0,1,0
TOP