India's lost Buddhist university to rise from ashes
By Rupam Jain Nair, AFP, Sept 13, 2010
NEW DELHI, India -- Indian academics have long dreamt of resurrecting Nalanda University, one of the world's oldest seats of learning which has lain in ruins for 800 years since being razed by foreign invaders.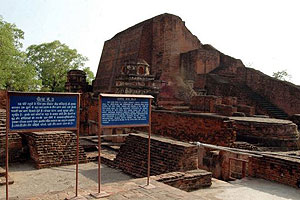 << The ruins of Nalanda University some 90 kms from Bihar state capital Patna
Now the chance of intellectual life returning to Nalanda has come one step closer after the parliament in New Delhi last month passed a bill approving plans to re-build the campus as a symbol of India's global ambitions.
Historians believe that the university, in the eastern state of Bihar, once catered for 10,000 students and scholars from across Asia, studying subjects ranging from science and philosophy to literature and mathematics.
Founded in the third century, it gained an international reputation before being sacked by Turkic soldiers and its vast library burnt down in 1193 -- when Oxford University was only just coming into existence.
Piles of red bricks and some marble carvings are all that remain at the site, 55 miles (90 kilometres) from Bihar's state capital of Patna.
"Nalanda was one of the highest intellectual achievements in the history of the world and we are committed to revive it," said Amartya Sen, the renowned economist and Nobel laureate who is championing the project.
"The university had 2,000 faculty members offering a number of subjects in the Buddhist tradition, in a similar way that Oxford offered in the Christian tradition," he said at a promotional event in New Delhi.
The new Nalanda University has been allocated 500 acres (200 hectares) of land near its original location, but supporters who have lobbied for the cause for several years admit that major funds are needed if Nalanda is to rise from the ashes.
"Income from a number of villages, and funds from kings, supported the ancient Nalanda. Now we have to look for donations from governments, private individuals and religious groups," said Sen.
Whatever the financial position, the need for more high-level educational institutes in India is clear.
With just 350 universities in a rapidly-developing country of nearly 1.2 billion people, the National Knowledge Commission recommends a staggering 1,500 new universities should be established in the coming decades.
Many wealthy Indian families send their children abroad to the United States, Australia and Britain to complete their education -- and graduates often never return home permanently.
Nalanda's backers believe it could help reverse the tide so that one day foreign students compete to attend Indian universities.
"The idea of setting up Nalanda again is brilliant but we need to understand the real essence of Nalanda. It embodied universality," said Phagun Pathak, a educationalist based in Delhi.
"Nalanda should be India's chance to open doors to international faculties and students," he told AFP.
Among those on the board of the Nalanda Mentor Group is Singapore's Foreign Minister George Yeo, who has said Buddhist groups in the wealthy city-state have shown interest in raising funds.
Other Buddhist groups in Japan and supporters in China are also being targeted for financial support.
It has been estimated that 500 million dollars will be required to build the new campus, with a further 500 million to improve the surrounding infrastructure in what is one of India's poorest regions.
For intellectuals, any new university bearing the Nalanda name will have a lot to live up to.
"In the history of universities and learning, Nalanda's name is sacred and its end was a tragic episode," said Ravikant Singh, a professor of history in a private college in Bihar.
"Everything was burnt down but its illustrious legacy has remained forever."
Other academics say the plans for Nalanda look to the future as much as to the past.
"Engaging with our neighbours through education and culture is the right way forward," said Chitra Sengupta, an international relation analyst at the Delhi University.
TOP