The fight goes on in Tibet's toehold in India
by Matt Wade, The Age, October 30, 2010
Dharamsala, India -- BETWEEN a holy river and a dusty highway on Delhi's northern fringe is an unlikely slice of Tibet.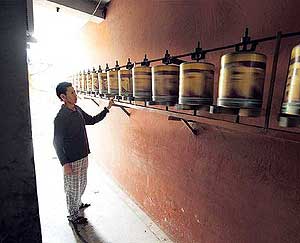 << Former Tibetan monk Yeshi Dhamdu admits that passion for the freedom struggle is hard to sustain far from home. TOP: Life goes on in the traditional way in ''Little Lhasa''.
Little Lhasa, as locals call Delhi's Tibetan Refugee Colony, stands out amid the city's concrete sprawl.
Fluttering prayer flags festoon its buildings and billboards extol Tibet's monastic megastar, the Dalai Lama. Buddhist monks in maroon and saffron robes wander Little Lhasa's alleys and eateries with names like ''Hot Yak Cafe'' and ''Tibetan Voice'' serve up bread dumplings and yak tea.
Advertisement: Story continues below
Tibetans have been fleeing Chinese occupation since the late 1950s and more than 100,000 are now believed to live in India. Some have settled in the northern hill station of Dharamsala, where the Dalai Lama and the Tibetan government in exile are based. But thousands have drifted south, to cities such as Delhi.
''Free Tibet'' slogans on banners and T-shirts for sale in Delhi's Little Lhasa are a reminder of the community's five-decade campaign for an autonomous homeland.
But some residents, such as former Tibetan monk Yeshi Dhamdu, admit that passion for the freedom struggle is hard to sustain far from home.
As a teenager he was radicalised during the four years he lived in a Tibetan monastery and took to the streets in Lhasa to protest against Chinese occupation. In 1989 he was arrested and claims to have been tortured by his Chinese captors and jailed for six years. After his release, Yeshi, now 42, escaped to India via Nepal and eventually settled in Delhi.
He admits his zeal for Tibetan independence has waned. ''When I was in Tibet there was great enthusiasm for protest. Now I'm less concerned about free Tibet. We just don't get so hot about it any more.''
Yeshi and his Indian-born Tibetan wife have two children and run a clothing store in Little Lhasa. During his daily visit to a Buddhist temple he often prays that Tibet will be free.
But Yeshi is deeply pessimistic about a return to his homeland, ''but I would go if it became fully independent''. Residents of Delhi's Little Lhasa appreciate India's tolerance of Tibetan asylum seekers.
''In Tibet we don't feel free to fully express our own culture but here we can,'' says Khyentse Rinchin, a traditional Tibetan musician and former monk who fled 15 years ago. But refugees in India live in a legal limbo.
''When it comes to owning properties or businesses, Tibetans do face problems,'' says Choechung Wangchuk, a Delhi-based member of the Tibetan government in exile's parliament and executive director of the Tibetan Parliamentary and Policy Research Centre. These difficulties mean most of the buildings in Little Lhasa are owned and run by Tibetan cultural institutions, not individuals.
Even so, many Tibetans have found jobs in service industries such as call centres, hospitals and restaurants. Local cheap-eat guides recommend Little Lhasa as a place to get tasty, low-cost food. Tibetans are also well known for the temporary stalls they set up in cities and towns across north India each winter selling woollens and warm clothing.
Up to 10,000 Tibetan refugees live in Delhi, most of them in Little Lhasa, which started as a makeshift refugee camp on a rubbish tip beside the Yamuna River in the 1970s.
India's biggest Tibetan community, numbering about 30,000, is in the state of Karnataka in the far south. The state government allocated land for Tibetans after a surge in asylum seekers in the early 1960s.
However, the Indian government's decision to grant asylum to the Dalai Lama after he escaped from Tibet in 1959 continues to aggravate relations between Beijing and Delhi. The lingering sensitivity was underscored last week when India's Foreign Office reportedly blocked plans by Delhi's Jamia Millia Islamia University to confer an honorary doctorate on the Tibetan spiritual leader because it did not want to upset China.
Refugees in India can do little but watch, wait and maybe join the odd protest.
''Tibetans in exile keep their eye on what is going on inside Tibet, what the Chinese are doing and what is the ground reality,'' says Choechung Wangchuk.
''In the meantime, Tibetans get on with their lives - they have to.''
TOP